Imagine this:
Your alarm goes off. You pat around to find the source of that annoying beep. You press some buttons until you hit the right one: SNOOZE. Ahhh, silence, you think. Just 10 more minutes. Just 10….
You've pressed snooze for long enough now that you have no choice but to get out of bed. You scramble to get dressed, shove some food in your face (maybe not), throw some food in a bag for lunch (also maybe not), and hopefully brush your teeth before you scramble out the door. You didn't have a chance to make coffee at home, but you might be able to grab a quick cup to go on your way to rehearsal.
You show up just a few minutes late, but with coffee in hand. The rehearsing starts. Your concentration is foggy, and your eyes don't seem to be focusing on the notes in front of you. Is my coffee working? you ask yourself.
The day continues, along with practicing, rehearsals, classes and meetings. By the time evening comes around, you feel like you haven't woken up all day. Life should be like this, you think. If only there was a way I could actually concentrate…
Water. We Need It.
We need water to survive. We can't last without it for more than a few days. The majority of our body weight is made up of water, ranging somewhere between 45-75%, depending on the individual (Benelam & Wyness, 2010). In our bodies, water acts as a building material, as a carrier for both nutrients and wastes, and as a shock absorber, and it also helps regulate our body temperature (Jéquier & Constant, 2009). But apart from water being essential to how our physical body works, it also plays a vital role in how we perform mentally.
Dehydration.
If we become mildly dehydrated (that is, if we lose between 1-2% of our body weight), we may experience headaches, fatigue, and reduced physical and mental performance. On average we lose between 2-3 litres of water per day: it evaporates through our skin and respiratory system, we perspire, and we excrete wastes (Jéquier & Constant, 2009).
In terms of cognitive functioning, being even mildly dehydrated can affect our concentration, alertness, and short-term memory functions. In a review titled "Water, Hydration and Health," Popkin, D'Anci, and Rosenberg (2010) propose that experiencing mild dehydration could be "a physiological stressor which competes with and draws attention from cognitive processes." This might be one idea, but the authors themselves admit that more research still needs to be done to support this hypothesis.
So, the big question remains, how much water should we drink? Suggestions like "6-8 glasses/day" might be familiar to a lot of people. Other ideas might sound like, "well, if we're losing 2-3 litres per day, we should be consuming 2-3 litres to balance it out." While it is true that drinking plain water is an important way to satisfy our bodies' water intake requirements, we can also absorb the water found in other beverages such as juice or tea, and even from our food. How much water we should actually consume to achieve adequate hydration levels depends on a variety of factors like climate, amount of physical activity, age, body size and diet. These factors make it nearly impossible to give specific intake recommendations that work for everyone.
"Man, I Really Need a Coffee…"
          Why water might be a better choice in the long run.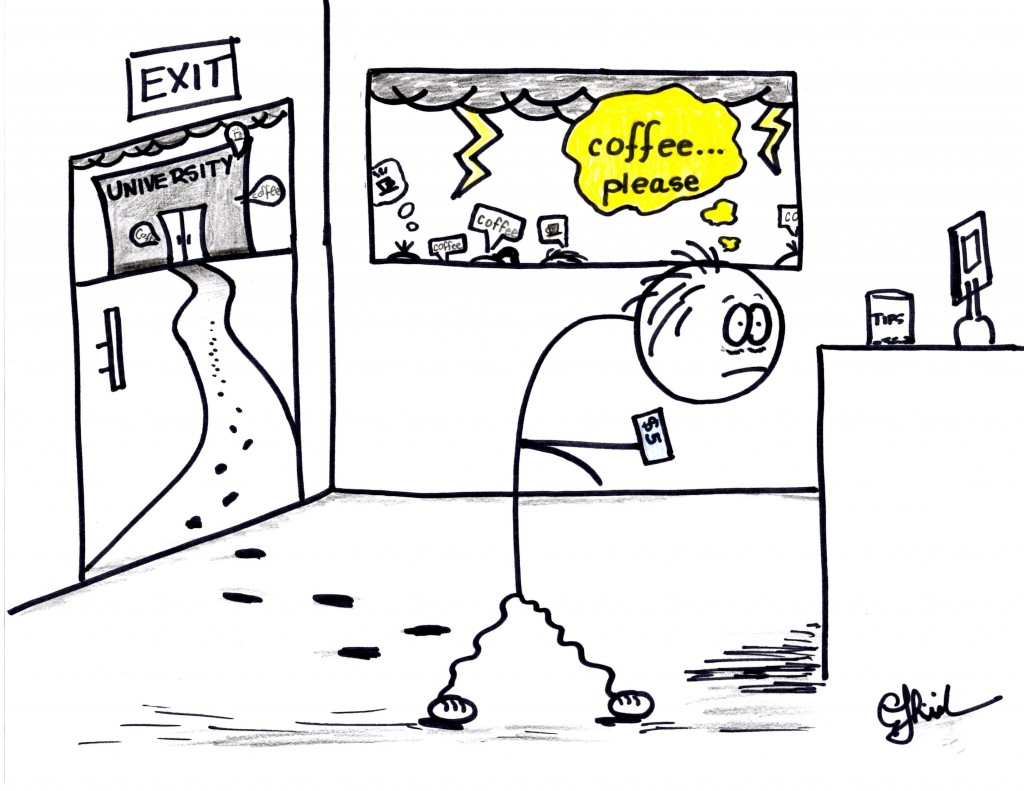 It's so easy to grab a coffee for a quick fix to keep us going throughout the day, especially through the demands of university life, and the go-go-go mentality of today's society in general. Moderate caffeine consumption (ranging somewhere between 38-400mg/day) can improve physical endurance, cognitive function, especially alertness and vigilance, mood, and our perception of fatigue (Ruxton, 2008).
Even though coffee isn't ALL bad, are we also willing to consider the negative effects of caffeine intake before we desperately run over to Starbucks? A chapter on caffeine is interestingly found in the Encyclopedia of Substance Abuse Prevention, Treatment & Recovery. It states that "caffeine is not a nutrient that the body requires for optimal healthy functioning. Rather, it belongs to the class of drugs popularly called central nervous system stimulants due to their ability to heighten physical and psychological functioning."
Even within the range of moderate consumption, caffeine can cause sleep disturbances and increased blood pressure. Higher doses of caffeine can even "produce anxiety, jitteriness, stomach pain, diarrhea, dehydration, dizziness, rapid heart beat, blurred vision, severe confusion (delirium), muscle tremors, nausea, vomiting, increased sensitivity to touch and pain, seizures, and decreased bone density" (Bedi & Wuitchik, 2009)
These side effects may sound extreme, and perhaps they are, but it does segue into the next topic of conversation: why water might be the better choice to increase our cognitive functioning.
There are a number of studies and reviews that report proper levels of hydration having a positive affect on mental performance. "Does having a drink?" tested this in 6-7 year old children and found that those given a glass of water before performing a task performed those tasks better than children who didn't drink water first. The children who drank water showed increases in their moods and happiness ratings, and their visual attention and visual search abilities were also positively affected (Edmonds & Jeffes, 2009). To further these results, a review by D'Anci stated that individuals who were adequately hydrated reported feeling more alert.
So what does all of this mean for musicians? With adequate hydration and increased alertness, mood and attention, we might be able to focus better during a performance. We might be able to make smarter choices in the practice room, and use our time more efficiently. We might even gain the perception of seeing our music notes more clearly.
The big question we should be considering is why we rely on caffeine to combat fatigue in the first place. If we don't NEED it to function healthily and optimally, why do we consume it? A glass of water won't necessarily keep us alert and "alive" after 4 hours of sleep the night before a big concert. What we need to do is find our own balance within a completely healthy lifestyle.
Are we sleeping enough? Are we eating a good balance of healthy foods? Are we exercising regularly?
Should I convince my students to drink water?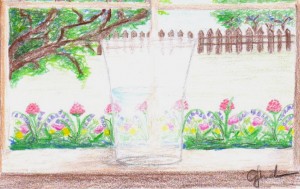 Here's the thing. Younger kids are more affected by smaller levels of dehydration than adults are. So, if you're a music teacher who values the wellbeing of your students outside of your studio, it's really important to understand that healthy habits start early on. It's similar to learning a scale with good technique right from the start, instead of trying to fix the bad habits your students accumulate over time.
It's important to instill values of overall health and wellbeing (including hydration, sleep, exercise and good nutrition) so that as your students get older they are equipped with the information and the knowledge to continue healthy lifestyle choices as they reach young-adulthood, university life and beyond.
Our job as teachers is to build up a healthy generation of musicians, and it starts with our students. It doesn't matter whether we offer them a glass of water or a cup of tea before a lesson, or integrate topics of sleep or growing vegetables into the conversation while turning to the next page of music. What matters is that we care for each one of our students in a complete and wholistic way. It doesn't take much to truly make a difference.
References:
Bedi, R. P., & Wuitchik, N. G. (2009). Caffeine. In Encyclopedia of Substance Abuse Prevention, Treatment, & Recovery, 1: 151-152. Retrieved from http://go.galegroup.com.proxy3.library.mcgill.ca/ps/dispBasicSearch.do?prodId=GVRL&userGroupName=crepuq_mcgill
Benelam, B. and Wyness, L. (2010), Hydration and health: a review. Nutrition Bulletin, 35: 3–25. doi: 10.1111/j.1467-3010.2009.01795.x
Benton, D. (2011). Lifetime nutritional influences on cognition, behaviour, and psychiatric illness. Oxford: Woodhead Pub.
Edmonds, C. J., Jeffes, B. (2009). Does having a drink help you think? 6-7-year-old children show improvement in cognitive performance from baseline to test after having a drink of water. Appetite, 53(3): 469-472. doi:10.1016/j.appet.2009.10.002
Jéquier, E. & Constant, F. (2009). Water as an essential nutrient: the physiological basis of hydration. European Journal of Clinical Nutrition, 64, 115–123. doi:10.1038/ejcn.2009.111
Ruxton, C. H. S. (2008), The impact of caffeine on mood, cognitive function, performance and hydration: a review of benefits and risks. Nutrition Bulletin, 33: 15–25. doi: 10.1111/j.1467-3010.2007.00665.x
Popkin, B. M., D'Anci, K. E., & Rosenberg, I. H. (2010). Water, Hydration and Health. Nutrition Reviews, 68(8), 439–458. doi:10.1111/j.1753-4887.2010.00304.x
Media:
Photo "Grass Nature Drop" by Rony Michaud, sourced through creativecommons.org
Drawings by Gabriele Thielmann