When musicians start to feel pain or tingling while playing, very often we'll seek out a doctor or physiotherapist for relief. Musicians want results that are fast, so that we can get back to playing as soon as possible, while also being safe, so we don't put a long term playing career at risk. However, this sort of thinking could actually be perpetuating an existing injury or making it worse.
There are a variety of injuries and disorders that are found in musicians, such as focal dystonia or De Quervain's. A playing-related musculoskeletal disorder, or PRMD, is one kind of injury common in musicians. A PRMD can be present if you have pain, weakness, lack of control, numbness, tingling, or other symptoms that interfere with your ability to play your instrument at the level to which you are accustomed (Zaza, Charles, & Muszynski, 1998).
Although many of these symptoms seem physical, pain itself is the unpleasant emotional response we feel in response to stimuli. Pain is subjective, and can be affected by a variety of psychological, sociological and behavioural processes, as outlined in the Biopsychosocial Model of Health (Engel, 1977; Engel, 1981). This means that pain can be affected by memories, thoughts and personalities, to name a few.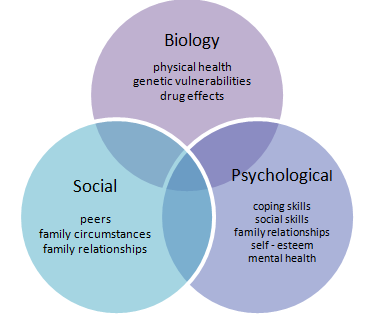 With musicians shown to be three times more likely to suffer from depression than the general population, a relationship between the epidemic proportion of injuries (over 50%!) and mental illness needs a closer look (Musgrave & Gross, 2016; Ackermann, Driscoll & Kenny, 2012). Researchers have started to show the links between PRMDs, depression and music performance anxiety (Kenny & Ackermann, 2013). To understand this correlation, I'll start by taking a closer look at what's happening in the brain when someone experiences pain.