Chances are if you are reading this you may be a musician, music educator or music student. If you are such a person, you may have heard non-musicians refer to you as 'talented'. Being referred to as talented implies you may have born with a special ability that those that aren't as musical you, don't possess. Have you ever wondered if this is true? At times, musicians do seem different than non-musicians. Are these differences innate or does our environment shape our musical future? The age-old question of nature vs. nurture crops up yet again. Fortunately we now possess tools and have developed skills to help answer these questions. The development of Functional Magnetic Resonance Imaging (fMRI) and improvements in image resolution due to technology advances and increased computer power has provided us with the means to peer into the brain non-invasively (Laufs, 2012).
A Little on Brain Structure

Reading about neuroscience can be daunting partially due to unfamiliar terminology. If you get overwhelmed, this site http://www.g2conline.org/ is a very helpful resource. It includes a 3D model and peer reviewed research reviews on brain structure. The structures of the brain are organized into headings and subheadings, and it includes a search bar and video links. I have found it invaluable and refer to it regularly to clarify brain structure and function, as well as to explore articles on related topics.

I have assembled a playlist with some useful links to help clarify the structure of the brain, its nomenclature and some things about its function. This 5 part video series entitled "Brain Matters" is especially clear and helpful:

https://www.youtube.com/playlist?list=PLgkIZ87-dg0VWRf-8ur1aJvpdGkaw7qvn

Question: Can you suggest other sources for brain structure and function?

Brain development can be compared to muscle development; the parts that are used the most get stronger. Musical activities are a great workout for your brain and often for your body too.
Grey Matter and White Matter
A few simplified definitions may be helpful when discussing brain function.

Grey Matter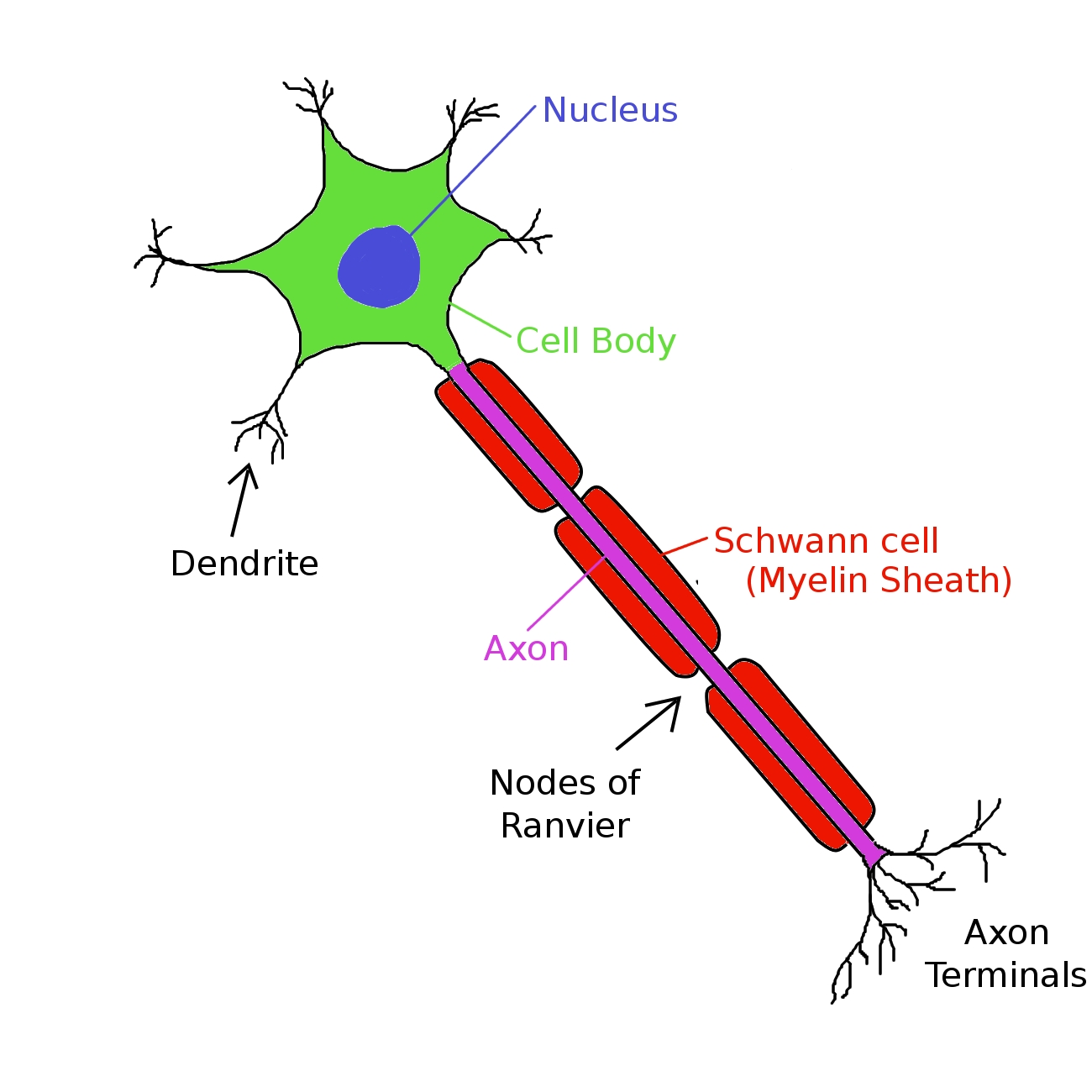 Neurons- A category of specialized cells that handle information going to and from and within the brain.

Dendrites- The portion of the brain cell responsible for collecting incoming signals.

Axon- The portion of the brain cell responsible for carrying signals away from the cell body.
White Matter
Myelin- Allows faster signal rate transfer by the axon.

We can think of the structural portions of the neuron as grey matter and the myelin around the axon as white matter.  There are many types of neurons and myelinated cells due to the variety of functions they are required to handle.

Basic Neuron Function

Neurons can communicate within the neuron and between neurons. Dendrites accept information from other neurons and house it in the cell body until the signal is strong enough for the cell to send a signal to other neurons down the axon. The combined signal collected by the dendrite must strong enough to be transferred to the next neuron; this is called action potential. If the dendrites have collected enough signal for the cell body to send the signal through the axon it has reached its 'action potential'. If the dendrites have not provided enough external signal, no signal is passed along the axon. The axon terminals connect to the dendrites of other cells through neurotransmitters; an area called the synapse.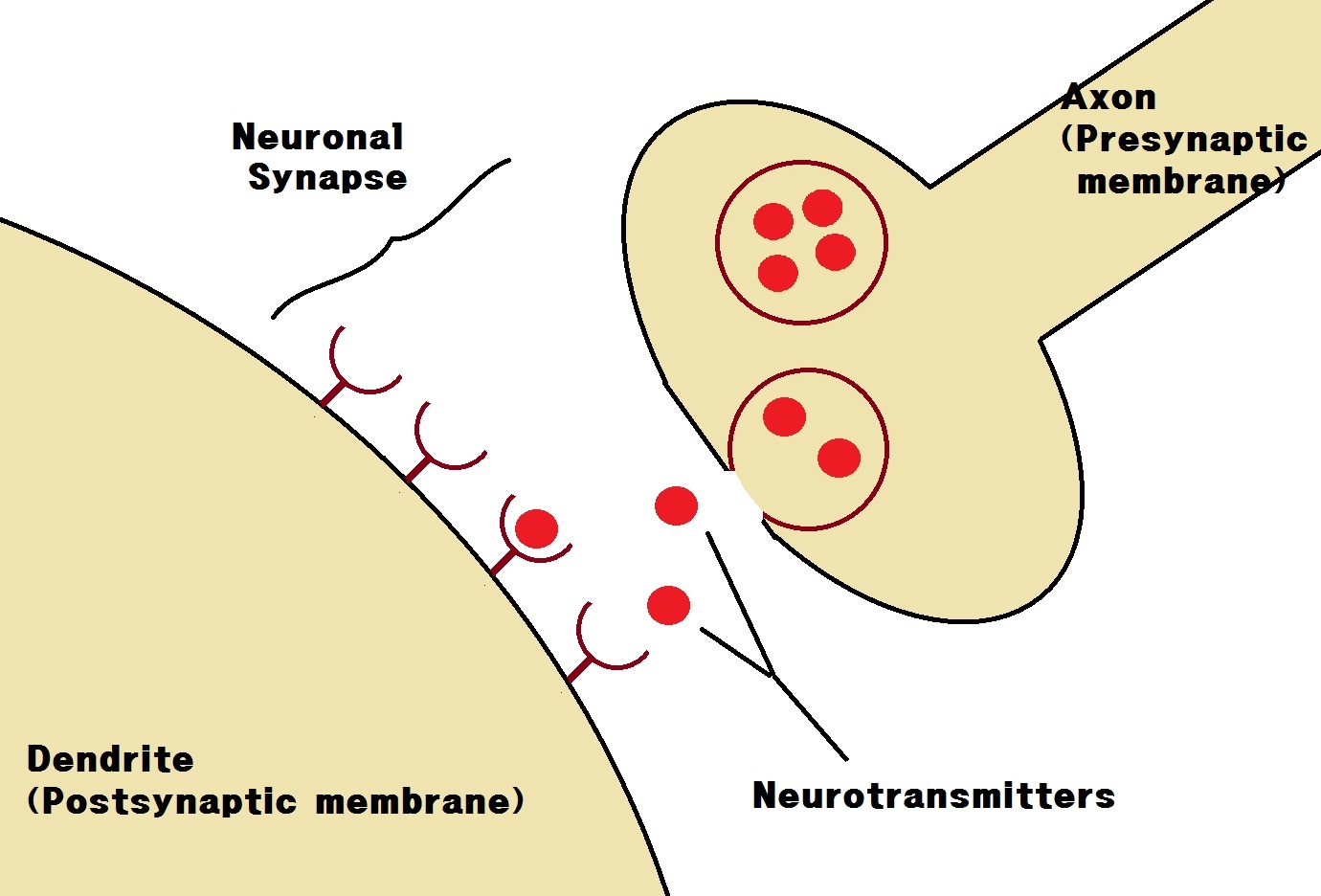 Synapse- The area of communication between brain cells. 

Nature Vs. Nurture, Are Musicians Born with Musical Ability?

The short answer to this question is – maybe. fMRI evidence points to differences in development in various brain areas of musicians due to practice and exposure to music, this phenomenon is referred to as 'brain plasticity' (Berlucchi & Buchtel, 2009). A multi-tiered, 2 year longitudinal study was designed to determine if individuals were potentially predisposed to musicality. In the first tier, a group  of  5-7 year old children with no prior musical training were given extra instrumental lessons and compared with a control group who had no prior training and did not receive music lessons either. fMRI results were combined with a battery of other cognitive tests to establish a baseline measurement. No significant structural differences in grey matter, white matter or corpus callosum size (the tissue of the brain responsible for connecting the left and right hemispheres) were detected in either group at baseline. However, after one year of training a significant increase in grey and white matter in these areas was found in the test group.

The second tier of the study was a cross-sectional comparison of children between the ages of 9-11; each possessing an average of 3-4 years of instrumental music instruction. Once more, a significantly larger volume of grey and white matter was found in the instrumental group than in the control group (Schlaug, 2006).

A previous cross-sectional study was used as the third tier of the study, using adults as participants. The study used three categories for comparison; non-musicians, amateur musicians, and professional musicians. And once again, significantly more grey and white matter was found in the brain structures of professional musicians than compared the other two groups. (Gaser & Schlaug, 2003; Schlaug, 2006). These findings indicate that increased grey matter development was due to the amount of musical training, practicing and performing one engages in.




Maybe Some People are Wired for Music?

There is a distinction between being born with musical ability and being genetically predisposed with the potential to focus on musical activities. The former implies that those who are born with this ability don't have to work as hard to achieve musical success, the later implies certain people may possess the hereditary potential to succeed at music.

15 children with a mean age of 6.32 years old were given 15 months of private keyboard lessons (i.e. outside of the school system) weekly for 30 minutes. This group was compared with a control group of 16 children of a mean age of 5.90 years old who did not receive private lessons but who did participate in a weekly 40 minute group music class in school. The results of the experiment revealed that extra musical training over only 15 months in early childhood leads to structural brain changes that diverge from typical brain development. Hyde et al. (2009) state in their study, "It is not possible 
from these findings to completely rule out 
that musicians may be born with preexisting biological predictors of musicality or
 that some children may have a certain genetically determined trajectory of cerebral
 development that may lead them to more 
likely continue to practice music relative to
 other children without this same predisposition. However, our findings do support the view that brain differences seen in
 adult musicians relative to non-musicians
 are more likely to be the product of intensive music training"
 (Hyde et al., 2009, p. 3022)

Question: Does music seem to run in your family? If so, do you think environment is a stronger determining factor or do you suspect musical ability is due to genetic disposition? Can you provide articles that support your point?




What Parts Brain Get a Workout When I'm Playing Music?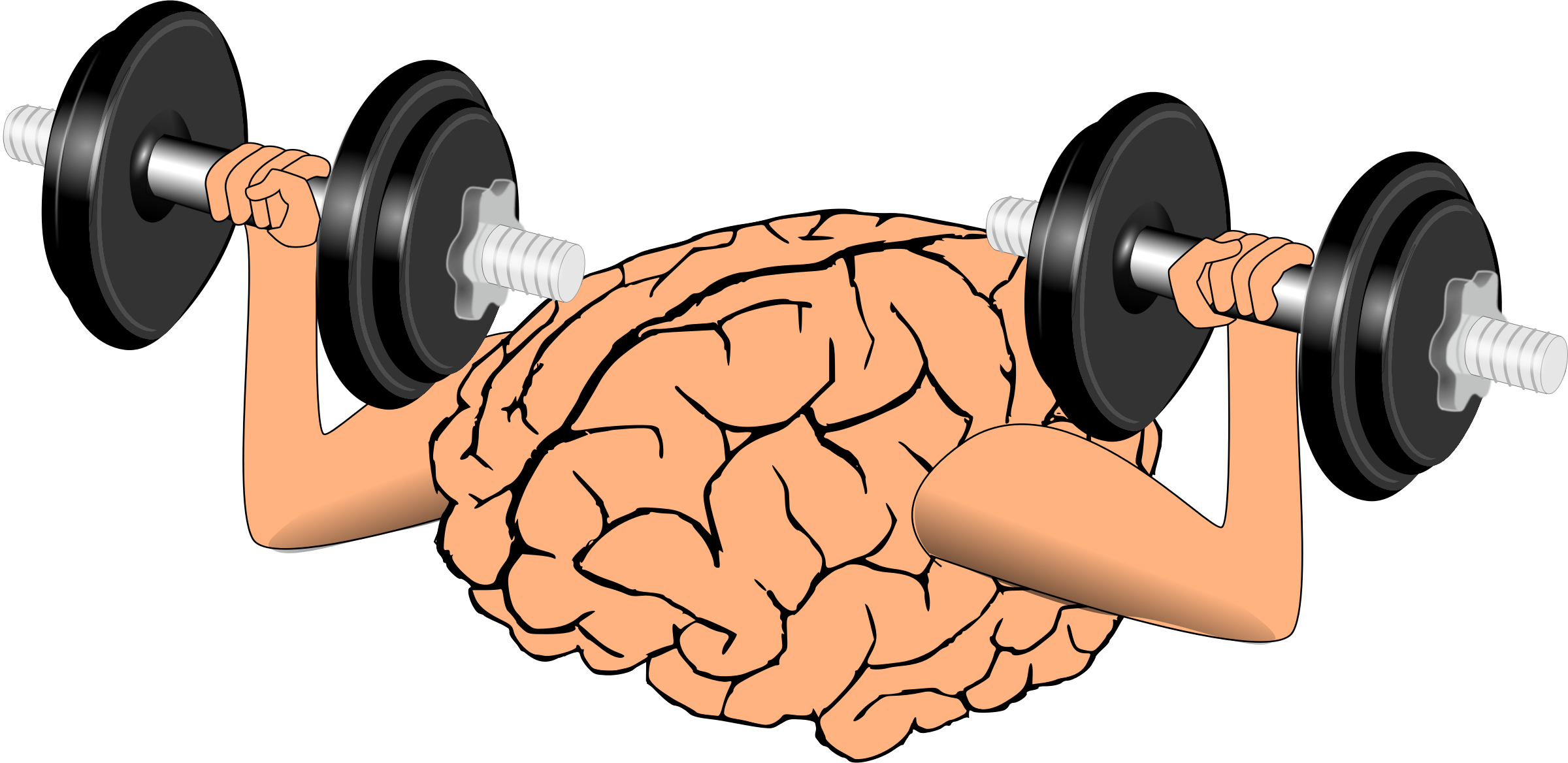 Many parts of the brain get a workout when playing music, including those that are shown to play a role in:
Speech and language processing;
Verbal areas;
Visual spatial memory;
Mathematical reasoning;
Working memory;
Metacognition (i.e. knowing about knowing or thinking about thinking); and,
Motor abilities and tactile acuity (Roden et al., 2014).
When reading this section don't let the terminology scare you off, the terms may seem intimidating, but I have included a short description of  what the primary function of each brain area mentioned is. In the results of  Groussard et al. (2014) section I have also included percentages of brain development size increases to illustrate the dramatic effect 18 months of music instruction has on the brain.

Evidence of increased brain plasticity in in musicians at many levels of development has also been found. Studies have shown the corpus callosum is larger in musicians than non-musicians (Schlaug, 2001). Pronounced increases in the inferior frontal gyrus of musicians (the area of the brain sometimes associated with response inhibition) has been observed, (Gaser & Schlaug, 2003; Schlaug, Jancke, Huang, & Steinmetz, 1995). However, some studies have determined that the function of the inferior frontal gyrus requires further study (Hampshire, Chamberlain, Monti, Duncan, & Owen, 2010). Increased grey and white matter throughout the brain could be linked to the multiple motor and sensory processes, planning, problem solving, and thinking that is required when striving for excellence in music (Gaser & Schlaug, 2003; Schlaug, 2006). Recent studies into increased auditory and language processing function in musicians have also shown that, "musicians have a refined hierarchy of internalized representations for auditory objects at both pre-attentive and attentive levels that supplies more faithful phonemic templates to decision mechanisms governing linguistic operations" (Bidelman, Weiss, Moreno, & Alain, 2014, p. 2662). A related study conducted by Roden et al. (2014) on attention, processing speed and auditory skills may support these findings. The study found that as little 18 months of extra music instruction increases visual attention, processing speed, and cognitive musical abilities when compared extra instruction recieved in the natural sciences. Additional studies have shown that a longer exposure to musical activity, even at the amateur level can have an effect in the:
Left hippocampus (+ 17.8% episodic memory region);
Left posterior cingulate gyrus (+23.5% integration of visual and emotional content);
Left superior temporal cortex (+50% ability to decode and memorize music);
Right insular (+14.6% emotional processing);
Right middle and superior frontal cortices (+25% event synchronization); and,
Right supplementary motor area (+26% pitch and timing after increase in this area shown after 15 years or more of experience)(Groussard et al., 2014).
Musical activity requires decoding and organizing auditory information which could account for some of the results of increased abilities. Processing speed and visual attention might be attributed to the temporal nature of music. Unlike some other visual processes (like reading a book) reading music requires the brain to keep track of temporal events while simultaneously navigating the visual landscape of sheet music or a score.

Processing speed throughout the brain is mostly attributed to increased myelin cell production. There are many types of myelin cells that are globally referred to as 'white matter'. White matter connects the grey matter sections of the brain and allows for faster transfer of information between axons. Neurodegenerative disorders ranging from schizophrenia to Alzheimer's Disease have been linked to changes in white matter volume and density (Bartzokis, 2011). Perhaps musical activities will be widely used as a preventative measure against such diseases in the future (Hyde, 2009).

Question: Are there other parts of the brain that you suspect might be affected by engaging in musical activities? Do you believe the claims made in the studies above?  Please provide peer-reviewed support for your view.




How Can We Be Sure About What is Really Happening Inside the Brain?

When discussing brain function we must realize that many portions of the brain are active when performing directed activities such as performing music. Attempting to assign responsibility solely to one section of the brain can result in misleading findings. For that reason it's important to remember that when studying brain function the structures of the brain work together, they are not independent from one another. We can equate this to how a car engine works; without question the spark plugs are key to the functioning of the internal combustion engine, but the spark plug is not the only part of the car responsible for the ignition of fuel, a variety of engine parts contribute to this process. Furthermore, the non-invasive nature in which studies are undertaken may also lead to contradictory findings that are susceptible to human error or oversight. Fortunately, the nature of science allows for mistakes, as it is driven by the correction and elimination of existing findings.

Question: Can you find articles that refute the claims made in the mentioned articles?




Will Information About Brain Function Help Me Play or Teach Music Better?

As musicians, music educators,music students and educational researchers we can actually use neuroimaging studies as a guide to improving our practices. The nature of collecting quantitative neurological data can be intoxicating, but it is always important to weigh the value of this data against other forms of research – not treat it as a means of blind justification. In addition, adhering to ethical standards and practices when young students are the primary participants can prove especially challenging and may have the potential to taint results. For example, Roden et al. (2014) excluded 100 students that pursued extra-curricular private lessons over and above the 45 minutes of extra instruction that was used as a variable in the study.

Students that exhibit a high interest in music may possess a genetic disposition towards plasticity in the areas of the brain that are most affected by musical activities (Hyde, 2009). Roden et al. (2014) did not identify the exclusion of 100 students that showed the highest interest in pursuing music activity as a limitation of the experiment. Their experiment may have yielded different results had the researchers had employed experimental techniques from the field of educational research such as a design experiment(Cobb, Confrey, Lehrer, & Schauble, 2003). In this case, and potentially many others, the accepted practices of neuroscience research may have garnered more refined results by incorporating accepted practices from other disciplines. The combination of neuroscience, cognitive psychology and educational research is increasingly being referred to as as 'educational neuroscience' (Hruby, 2012). Educational neuroscience used for music can aid music education and direct music pedagogy. It will also provide those responsible for writing and implementing educational policy with evidence showing how musical instruction benefits not only musicians but anyone who engages in musical activities.

Playing music has proven to be a unifying factor in our evolution and will continue to benefit our species.

References

Bartzokis, G. (2011). Alzheimer's disease as homeostatic responses to age-related myelin breakdown. Neurobiology of Aging, 32(8), 1341-1371. doi: http://dx.doi.org/10.1016/j.neurobiolaging.2009.08.007

Berlucchi, G., & Buchtel, H. A. (2009). Neuronal plasticity: historical roots and evolution of meaning. Experimental Brain Research, 192(3), 307-319. doi: http://dx.doi.org/10.1007/s00221-008-1611-6

Bidelman, G. M., Weiss, M. W., Moreno, S., & Alain, C. (2014). Coordinated plasticity in brainstem and auditory cortex contributes to enhanced categorical speech perception in musicians. European Journal of Neuroscience, 40(4), 2662-2673. doi: http://dx.doi.org/10.1111/ejn.12627

Brain training [Online image]. (2015).Retrieved April 20, 2015 from https://openclipart.org/detail/214552/brain-training

Cobb, P., Confrey, J., Lehrer, R., & Schauble, L. (2003). Design experiments in educational research. Educational researcher, 32(1), 9-13. doi: http://dx.doi.org/10.3102/0013189X032001009

Diagram of neuron [Online image]. (2015).Retrieved April 20, 2015 from http://simple.wikipedia.org/wiki/Neuron

Gaser, C., & Schlaug, G. (2003). Brain structures differ between musicians and non-musicians. The Journal of Neuroscience, 23(27), 9240-9245. doi: http://dx.doi.org/10.1016/S1053-8119(01)92488-7

Groussard, M., Viader, F., Landeau, B., Desgranges, B., Eustache, F., & Platel, H. (2014). The effects of musical practice on structural plasticity: The dynamics of grey matter changes. Brain and cognition, 90, 174-180. doi: http://dx.doi.org/10.1016/j.bandc.2014.06.013

Hampshire, A., Chamberlain, S. R., Monti, M. M., Duncan, J., & Owen, A. M. (2010). The role of the right inferior frontal gyrus: inhibition and attentional control. NeuroImage, 50(3), 1313-1319. doi: http://dx.doi.org/10.1016/j.neuroimage.2009.12.109

Hruby, G. G. (2012). Three requirements for justifying an educational neuroscience. British Journal of Educational Psychology, 82(1), 1-23. doi: http://dx.doi.org/10.1111/j.2044-8279.2012.02068.x

Hyde, K. L., Lerch, J., Norton, A., Forgeard, M., Winner, E., Evans, A. C., & Schlaug, G. (2009). Musical training shapes structural brain development. The Journal of Neuroscience, 29(10), 3019-3025. doi: http://dx.doi.org/10.1523/JNEUROSCI.5118-08.2009

Laufs, H. (2012). A personalized history of EEG–fMRI integration. NeuroImage, 62(2), 1056-1067. doi: http://dx.doi.org/10.1016/j.neuroimage.2012.01.039

Neuronal synapse [Online image]. (2015).Retrieved April 20, 2015 from https://commons.wikimedia.org/wiki/File:Neuronal_Synapse.jpg

Roden, I., Könen, T., Bongard, S., Frankenberg, E., Friedrich, E. K., & Kreutz, G. (2014). Effects of music training on attention, processing speed and cognitive music abilities—findings from a longitudinal study. Applied Cognitive Psychology, 28(4), 545-557. doi: http://dx.doi.org/10.1002/acp.3034

Schlaug, G. (2001). The Brain of Musicians. Annals of the New York Academy of Sciences, 930(1), 281-299. doi: http://dx.doi.org/10.1111/j.1749-6632.2001.tb05739.x

Schlaug, G. (2006). Brain structures of musicians: executive functions and morphological implications. Music, motor control and the brain, 141-152. doi: http://dx.doi.org/10.1093/acprof:oso/9780199298723.003.0009

Schlaug, G., Jancke, L., Huang, Y., & Steinmetz, H. (1995). In vivo evidence of structural brain asymmetry in musicians. Science, 267(5198), 699-701. doi: http://dx.doi.org/10.1126/science.7839149