You want to escape. Right now, you'd like to escape the stage.
You think: "What's the problem with me?".
You've practiced these pieces for hours and hours but your hands can't stop shaking and you're out of breath as if you had just ran a marathon.
"I'll lose my friends, they can't be with someone who is so bad at triple tonguing!".
STOP!
Sounds familiar? This is perfectly normal. Everybody may experience performance anxiety at some point in their lives. Let's take some time to understand what's happening in our body and mind.
What is performance anxiety?

First, let's start at the beginning. Anxiety? It's a natural reaction of the body that prepares us for extreme physical activity. In the case of performance anxiety, it's a stress response in the context of a… performance (obviously). It can be triggered by speaking in a front of an audience, during sports, or performative arts like dance, theater and music.

There are two types of anxious apprehension:

-chronic stress, which last for a long period of time (ex.: in January, you're already thinking about your final master's recital that is in May. Woh, it will be a loooonnngg semester.): and

-state anxiety, that  will hit you in a particular type of situation, such as an audition for the MGSO in the beginning of the semester. (Drinkwater, E. J., & Klopper, C. J. 2011)

Before going any further, let me tell you something really important: STRESS IS NOT BAD. It is essential, and we can't avoid it. It will always be present in our busy lives. It's an energy that proves that you care for what you're going to perform; otherwise, you'd be bored. A moderate level of anxiety will assure an optimal performance. (Wilson, M. 2016)

As you can see in thisYerkes and Dodson's diagram,for an optimal performance, you need to increase your attention and interest to this centered point; if it's too low, you won't care about your playing, but if it's too high, you will start being anxious and too aware of what's happening. Moral of the story? You need to find balance (not only in music, though!).

Hebbian version of the Yerkes Dodson curve. Yerkes and Dodson, Hebbian. Copyright 2007.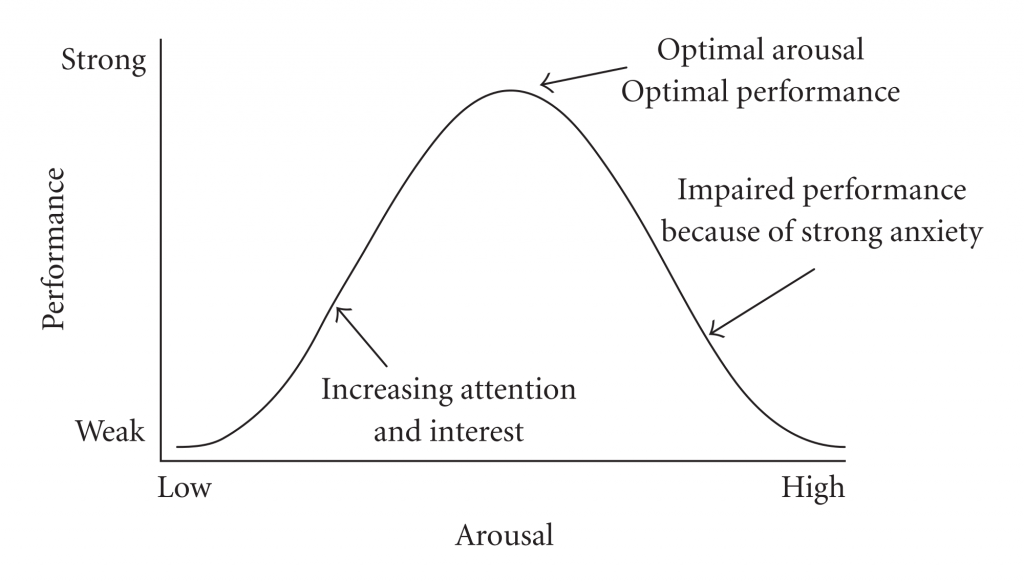 Ok fine. But how do we react to stage fright?

Before going into the brain, let's take a look on how our body reacts to performance anxiety. Depending of your instrument, some of the physical symptoms may be more annoying than others. Dry mouth and shallow breathing are more likely to frustrate wind players, while the mind going blank and sweaty hands may irritate pianists and strings players. Heart rate increase and muscle trembling are also symptoms that may occur during a performance. (Studer, R., and al. 2011)

In the brain, the reaction is not really more complicated, and is called the "fight-of-flight" response. In the prehistoric age, we needed to hunt to get our food. While hunting, one could encouter a mammoth and this big animal could kill you. Nowadays, the brain doesn't make the difference between a mammoth and your recital. This is why the reactions may be so intense. (Watson, 2009)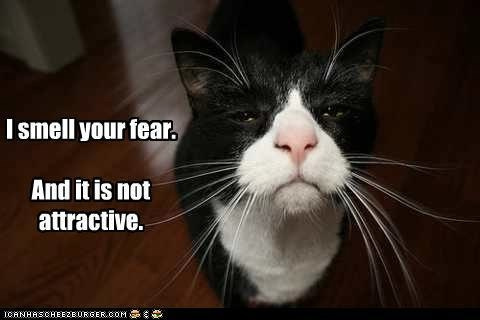 The limbic system first recognises the stressfull potential of a situation.

This takes place in two areas: the hippocampus, where the declarative memory (events, places, facts) is, and in the amygdala, where the emotional aspects of the memory (negative or positive emotions) are occuring. Because the brain makes links with previous events, stress may originates from bad past experiences. (Kenny, D.T. 2011)

Anderson, Paul. Flick. Copyright 2010.

After that, the prefrontal cortex plans our futures actions depending on that. The automatic nervous system which regulates blood distribution and control activity of the glands, sends instructions to the pituitary glands: shoot adrenaline or cortisol! In other words, acting on signals from your brain, your hypothalamus alerts your pituitary gland, which then releases stress hormones into your blood stream.The adrenaline provides a sudden and big rush of energy; this is why your heart rate increases that much, even if you're just about to play a sonata. The cortisol is the hormone released in response to stress. After, it's in the endocrine system that the physical effects will take place. (Watson, 2009.)

This increase in brain activity not only creates emotional intensity, it makes you think faster. The greater your perceived burden of pressure, the greater the physiological arousal. This is why a lot of thoughts are racing in your head, and implusive and judgemental ideas are popping.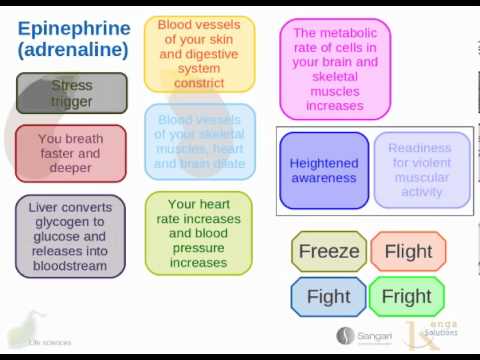 Human Endocrine System: adrenal glands – epinephrine (adrenaline) and aldosterone. Keats, Derek. Youtube. Copyright 2012.

Is this a girl's thing?

If man and woman are physically different, they are also different in terms of their stress response. Women are more likelyto suffer form depression and others mental health disorders. This also apllies to stage fright.Both genders are not even in front of stress. But why?

First of all, it's important to differentiate sex from gender. Sex is the physical attributes that one is born with and that make one a man or a woman. Gender is a cultural socialisation that has more to do with behaviours (for some people, girls may wear pink and boys, blue). In some societies, men are expected to not cry and be strong (the famous quote "Be a man!"), while women should be a good mother, a good wife, a good friend, in short, a superwoman. It has a lot to do with stereotypes, and the way kids are raised influences their stress response in the adult life. (Justin R.P., and al. 2009)

Interestingly, in many of the studies done with rats, females were taken out because their hormones varied too much according to the researchers. So, it's only recently that science starts to find answers about this topic.

However, women are more conducive to talk about their feelings to a group of friends or to find external help sources, while men will keep their emotions for themselves. This demonstrates that, even in coping strategies, genders are different.

Some recent studies (American Psychological Association, 2000.) suggest that a new paradigm could be added to the "flight-or-fight" reaction in women's case: the "tend-and-befriend". That means that women will have the tendency to protect themselves and the others around them by nurturing them in a stressfull situation. It's more associated with the caregiving and the attachment female traits and is a good start to study the gender differences in the stress response.

In prehistoric age, the role of women was to care about the family, while men's role was to hunt and get food. They were the ones in front of the mammoths,  not the ones feeding the babies. (Justin R.P., and al. 2009)

There is still a lot to discover about sex differences and stress response, but it's already a good start to be aware that we are not all the same in front of it.

Conclusion

Do you feel less alone? I hope so! Performance anxiety is a part of every musician's life and to avoid it won't make your performances easier. Actually, seeing it as a positive energy that may help giving the best performance of your life. Wouln'd  this be a better way to deal with it? Think about the music… not about yourself!

"Oh wow, I have so much energy to play this piece!"

Your heart rate is increasing, but you know it just there  to helps you focusing on what's happening.

"The music is so beautiful, I have nothing to think about!"

This is what could happen in your mind if you saw performance anxiety on the good side. You just have to… deal with it!

References

Diamond DM, et al. (2007). "The Temporal Dynamics Model of Emotional Memory Processing: A Synthesis on the Neurobiological Basis of Stress-Induced Amnesia, Flashbulb and Traumatic Memories, and the Yerkes-Dodson Law". Neural Plasticity: 33.

Drinkwater, E. J., & Klopper, C. J. (2010). Quantifying the physical demands of a musical performance and their effects on performance quality. Medical Problems of Performing Artists, 25(2), 66.

Juster, R. P., Marin, M.-F., Plusquellec, P., Schrameck, T.A., Sindi, S. & Trepanier, L. (2009). Sex differences in Stress. Mammoth Magazine, 6, 1-16.

Kenny, D. T. (2011). The psychology of music performance anxiety. Oxford: Oxford University Press.

Randall, M. (2008). The trouble with nerves. Teaching Music, 16(2), 44-46, 48.

Studer, R., Gomez, P., Hildebrandt, H., Arial, M., & Danuser, B. (2011). Stage fright: its experience as a problem and coping with it. International Archives of Occupational and Environmental Health, 84, 7, 761-771.

Watson, A. H. D. (2009). The biology of musical performance and performance-related injury. Lanham, Md: Scarecrow Press, 332-352.

 Wilson, M. (n.d.). Disarmed: Dropping the protective armour of stage fright. Retrieved April 17, 2016, from http://mirandawilsoncellist.com/blog/