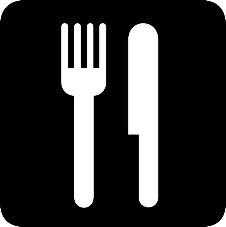 Feeling anxious? Hangry? Tired? Does your hunger drop before a concert? Do you often find yourself out of energy halfway through a performance? Here are some clues as to how nutrition is affecting your stress levels, musical performance and overall wellbeing, and a few tips on what you can eat to improve your general health.
Healthy body, healthy mind. Or is it the other way around?

Both the body and mind are to be taken into consideration when evaluating health. Good health is dependent not only on physical, but also mental and social well-being.

A better mood generally results in better physical health. Happiness can be observed through a higher production of the substance serotoninin the brain (more on this topic under "why stress makes you hungry") (Young, 2007). In numerous studies, a good mood was observed to protect individuals against the onset of mental and physical disorders, and improving social support, another determinant factor of health (Young, 2007). Integrative medicine uses a holistic (natural) approach to health care by promoting exercise, spirituality, relaxation techniques and stress management as essential components of physical well-being (Edman, Kondrad, & Rakel, 2011).

In the following video, Dr. Habib Sadehi, supports similar ideas.

Now, what does nutrition have to do with all this? It is important to understand that it is not only the physical state that affects the mental one, but that it is also (if not more) the other way around. There is no perfect eating plan that will take all your stress away. Anxiety is a complex phenomenon that must be tackled from different angles.

Below are some explanations of how the mind affects eating behaviors, and how nutrition can be used as a tool to combating anxiety.
Why stress makes you hungry

According to surveys conducted by the American Psychological Association in 2007, 50% of the American population experiences greater stress now than it did five years ago, and 43% report using food as a coping method (Stress a major health problem in the US, warns APA, 2007). Is it then mere coincidence that 70% of the population in the United States is now overweight or obese? Many studies have sought to find the answer in looking at the relationship between stress and food intake.

Let's look at what happens in the brain of one who might be experiencing stress induced hunger. Serotonin is a neuron which contributes to a sensation of well-being and happiness. It is synthesized in the brain by the amino acid tryptophan, which can be found in a variety of foods. Levels of both substances have been observed to increase following a meal rich in carbohydrates and low in protein (Wurtman, 1986).

In one study, individuals who displayed symptoms of anxiety prior to consuming a carbohydrate-rich snack were much more relaxed afterwards (Wurtman, 1986). Sound familiar? Foods high in calories are good for the brain in that they reduce psychological stress and bring calm; however, such foods may become a conditioned coping mechanism for stress and may generate an addiction. In fact, carbohydrates and antidepressants have been observed to have the same effect on serotonin levels in the brain. Serotonin has also been shown to be involved in appetite regulation, which explains why when under stress, you might experience a drive to eat for highly palatable foods, which are low in nutrients but high in sugar and fat (Wurtman, 1986).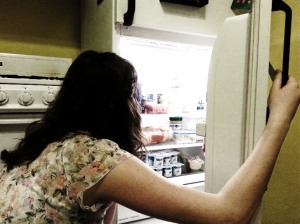 Another substance that comes into play is cortisol, a hormone similar to adrenaline which is released in the body as a reaction to stress, and motivates caloric dense food intake (Adam & Epel, 2007). If you are prone to higher cortisol reactivity than others (you can blame genetics for that), you are more likely to increase food intake in order to cope. More great news: stress can also lead to feeling out of control when eating (Groesz, et al., 2012).

So, what is there to do? There are many ways to raise serotonin levels in the brain that do not involve a box of Oreo cookies or antidepressants! Meditation, changing of thoughts (induced individually or through therapy – link to Brian's post), exposure to bright light, and exercise are other ways to increase serotonin levels (Young, 2007). Mindfulness, being in the present moment, is also an encouraged strategy. For more strategies on how to cope with anxiety, you may visit the other blog posts under "Stressed?".
Feeling sick to your stomach before a performance?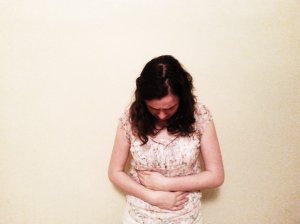 Most performers experience music performance anxiety prior to an important concert or audition. Anxiety consists of a stress response in the body manifested through physical symptoms such as an increased heart rate, sweating and release of adrenaline. The "fight-or flight" is one type: the body reacts to a perceived life-threatening event, and energy is focused on the organs essential to survival. There is an increased blood supply to the brain, and increased stimulation of the skeletal muscles, which results in a decreased blood flow to the organs of the digestive system (Everly & Lating, 2013). Anxiety may therefore result in a loss of appetite, and other similar symptoms such as agitated stomach, "butterflies", cramps, nausea, strange taste in the mouth, or even vomiting and diarrhea. Key to countering these effects are good nutritional habits, sufficient sleep and efficient stress management strategies (Schwertly, 2014).
So, what should I eat?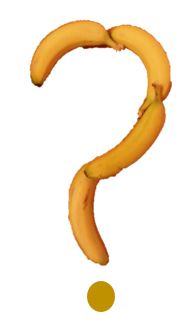 Your first guess would probably be bananas, or turkey. But contrary to common belief, these foods do not have an impact in reducing stress. Bananas do contain serotonin, but the nutrient never reaches the brain when digested. Turkey is a source of tryptophan, which is involved in the synthesis of serotonin in the brain, and contributes to a better mood. Yet, only in its purified form will this substance have a direct impact when ingested (Young, 2007).

There is no magic food that will significantly reduce levels of stress that might be experienced before or during a performance.   What truly makes a difference is the regular diet when considered as whole.

"Eat your veggies!"

Does this phrase sound familiar? Not only are they essential to a balanced diet, vegetables are also rich in nutrients with therapeutic properties (Bishop, 1991). Potatoes heal muscles and nerves, and are especially good for sciatica (nerve pain cause by the irritation of the sciatic nerve). Parsnips decrease nervousness and brain fatigue. Lettuce combats nervousness as well (Bishop, 1991).

Listed below are suggestions of foods to be consumed in moderation or completely avoided along with some brief explanations. They consist of palatable foods (mentioned ealier Under "Stressed eating"), which may be addictive and therefore difficult to eliminate from the diet. A gradual approach is ideal. All information below was retrieved from Dorothy Bishop's book The Musician as Athlete.

SUGAR

Sugar is hard to avoid, as many processed foods contain it in some form (fructose, sorbitol, mannitol, dextrose, etc). Not only is it poor in nutritious value, it robs the body of nutrients such as vitamin B6, calcium, and zinc. Sugar may accelerate the development of osteoporosis (Rosen, 2008), raise blood cholesterol and reduce immunity. Eating a large quantity of sugar may cause swings of blood sugar levels, leading to hypoglycemia, or low blood sugar level, which occurs when levels of glucose in the blood drop below normal levels. Symptoms include hunger, shakiness, nervousness, dizziness and weakness, all of which are to be avoided by music performers! ((U.S.), 2008). Sugar may furthermore hinder your ability to deal with stress, and draw water away from your muscles into the digestive system. (Bishop, 1991)
Drastically and completely eliminating sugar from your diet will have many negative side effects: headaches, muscle tension, anxiety, delirium, depression, inability to concentrate, irritability, weakness, etc. (Bishop, 1991). Making subtle and gradual changes is the way to go.

What about chocolate? Good news: dark chocolate eaten in moderation will diminish stress. In one study, individuals who consumed 40g of dark chocolate each day for two weeks displayed a decrease in cortisol levels (more on cortisol and how it relates to stress under "why stress makes you hungry") (Martin, et al., 2009).

SALT

Found in most processed foods, salt is over-consumed by many. A diet high in salt can lead to muscle damage, high blood pressure, increased sweating and chronic fatigue. Salt restriction, however, could increase the risk of injury and cause cramps. Gradual changes are once again recommended.

FRIED FOODS

High in fat, these may contribute to tissue damage and raise resting pulse rate as well as blood pressure.

REFINED FLOUR

Refined flour is digested similarly to sugar, and only contains few nutrients. When it reaches the stomach, it mixes with water to create a paste, which may contribute to constipation or other bowel problems.

FOOD ADDITIVES

Under this category fall preservatives and food coloring.

Fresh, frozen, or canned?

Fresh foods is always best, as they are rich in nutrients and low in additives. Next are frozen foods which are generally better than canned. Packaged and processed foods are the worst, as they are much higher in additives, some of them not even indicated on the ingredient list.

Organic or not?

Organic fruits and vegetables are considered healthier and richest in nutrients, as they grow naturally without pesticides or chemicals interfering with the process. They also generally taste better!

CAFFEINE

Caffeine can be found in coffee, black tea, chocolate, and colas. It can have both positive and negative side effects. Some positives include increased alertness and attention and relaxing of the smooth muscles, especially in the blood vessels. However, caffeine can also cause anxiety, sleeplessness, irritability, headaches, shakiness, nervousness and depression.

More on this topic in the "Will a drink help me think?" article on this website.

ALCOHOL

Moderate alcohol consumption can actually be good for you; it has been linked to increased lifespan and reduced stress. However, it is also implicated in memory loss, chronic fatigue and other impairments of cognitive functions. The carbs contained in alcoholic beverages may also cause sudden rising and lowering of blood sugar levels. (Bishop, 1991)

In all, be nice to yourself. Maintaining strict rules around food will decrease your body's capacity to detect hunger and satiety cues, and might potentially lead to overeating. Appetite is based on regulatory processes; listening to you body's needs is key (C.G. & Halford and John E. Blundell, 2005).

One thing to be avoided during a performance on stage is having low blood sugar levels which will result in impatience, hunger, and short attention span, difficulty to focus, muscle tension, poor memory, shakiness and tiredness. The foods listed above are among the substances that will cause the blood sugar level to dip. Following are additional recommendations from Dorothy Bishop's book The Musician as Athlete in order to keep blood sugar levels stable.

A healthy lifestyle promoting sufficient sleep and rest as well as exercise will be essential to keeping blood levels stable. Certain foods also promote the stabilization of blood sugar in the blood: complex carbohydrates (whole grains, brown rice, millet, buckwheat, potatoes and other starchy vegetables), raw fruits or vegetables, avocados, lemons, beets, yoghurt (this is a better option than milk, as lactose, milk's sugar, has been converted to lactic acid), string beans, garlic and onions, brewer's yeast, as well as foods that are a good source of vitamin B, C, E, calcium, magnesium and zinc. A high protein diet will even out blood sugar levels, but will put strain on the liver. A balanced diet including the foods mentioned above and moderation are ideal (Bishop, 1991).

Each individual has specific needs and there is no such thing as the perfect diet. Further studies observing the relationship between food and its impact on serotonin and tryptophan levels in the brain may be conducted in order to more clearly understand the relationship between specific categories of foods, overall well-being and stress response.

In all, maintaining healthy habits for your mind and keeping your body well-nourished and satisfied while perhaps slowly replacing bad habits by new healthier ones will assure good health, and a great performance!
References
(U.S.), N. I. (2008). Hypoglycemia. Bethesda, MD: U.S. Dept. of Health and Human Services, National Institutes of Health, National Institute of Diabetes and Digestive and Kidney Diseases.
Adam, T., & Epel, E. S. (2007). Stress eating and the reward system. Psychology and Behavior, 91(4), pp. 449-458.
Bishop, D. (1991). The musician as athlete. (J. Carlson, Ed.) Calgary, Alberta, Canada: Kava Publications.
(U.S.), N. I. (2008). Hypoglycemia. Bethesda, MD: U.S. Dept. of Health and Human Services, National Institutes of Health, National Institute of Diabetes and Digestive and Kidney Diseases.
Adam, T., & Epel, E. S. (2007). Stress eating and the reward system. Psychology and Behavior, 91(4), pp. 449-458.
Bishop, D. (1991). The musician as athlete. (J. Carlson, Ed.) Calgary, Alberta, Canada: Kava Publications.
C.G., J., & Halford and John E. Blundell. (2005). Regulation of macronutrient preference – component of food selection. In H. R. Lieberman, R. B. Kanarek, & C. Prasad, Nutritional neuroscience (pp. 93-109). Boca Raton: Taylor & Francis.
Edman, J. S., Kondrad, L. B., & Rakel, B. (2011). The use of nutrition and integrative medicine or complementary and alternative medicine (CAM) for singers, Part 1. Journal of Singing, 68(2), pp. 165-173.
Everly, G. S., & Lating, J. M. (2013). A clinical guide to the treatment of the human stress response. New York: Springer New York.
Groesz, L. M., McCoy, S., Carl, J., Saslow, L., Stewart, J., Adler, N., . . . Epel, E. (2012). What is eating you? Stress and the drive to eat. Appetite, 58(2), pp. 717-721.
Martin, F., Rezzi, S., Pere, E., Kamlage, B., Collino, S., & Leibold, E. (2009). Metabolic effects of dark chocolate consumption on energy, gut microbita, and stress-related metabolism in free-living subjects. Journal of Proteome Research, 8, 5568-5579.
Rosen, C. J. (2008, December). Sugar and bone: A not-so sweet story. Journal of Bone and Mineral Research, 23(12), 1881-1883.
Schwertly, S. (2014, May 28). The presenter's guide to a nervous stomach. Retrieved March 31, 2015, from Ethos3: http://www.ethos3.com/2014/05/the-presenters-guide-to-a-nervous-stomach/
Stress a major health problem in the US, warns APA. (2007, October 24). Retrieved April 02, 2015, from American Psychological Association Press Release: http://www.apa.org/news/press/releases/2007/10/stress.aspx
Wurtman, R. J. (1986). Ways that foods can affect the brain. Nutrition Reviews, suppl 3, pp. 2-6.
Young, S. N. (2007). How to increase serotonin in the human brain wihtout drugs. Journal of Psychiatry and Neuroscience, 32(6), pp. 394-397.
Media