Many performers find the learning of complex new music featuring extended techniques to be a daunting task. Not only is the music itself often difficult, but it demands new methods of sound production that may be foreign to the motor functions already engrained through typical instrumental training, and typically features novel notational systems.
How can one apply concepts of motor skill learning to help develop efficient practice habits, especially in the training of new and perhaps unnatural actions?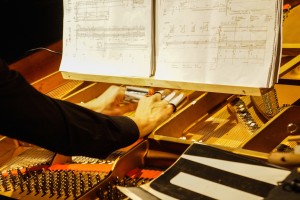 Maximizing the flexibility and transfer of motor functions
Although extended techniques often appear to be very different than traditional methods of instrumental playing, the manner in which we approach our musical training may have a lasting effect on our ability to transfer these skills to new, complex settings.
It is important to have a basic knowledge of the general mechanisms of motor learning and how these can be applied to music performance skills. There are three periods involved in the learning of a motor skill (Watson, 2009):
This occurs over a period of minutes where significant improvement in performance can be observed.
When a task is performed following a period of consolidation, which occurs in the absence of activity and lasts 6-8 hours, there is further improvement beyond the level achieved at the end of the initial period. This period of consolidation is even more pronounced when the absence of activity occurs during sleeping hours.
With daily practice over the next few weeks, the increments in improvement are gradually reduced until an upper level of ability is reached. A considerable increase in effort is required to break through this threshold. This is why people often say that progressing from good to great competency is more difficult than the original attainment of a good level.
Over the course of time, these motor skills become further engrained and can be more effectively transferred from one situation to another. Research shows that more advanced performers show the greatest transfer across well-learned motor movements (Palmer, 2006). This flexibility of motor movements demonstrated by performers is essential to the interpretive nature of music performance, as they can apply the motor skills that they have mastered to various situations. So the question becomes, how does one most effectively learn motor skills throughout musical training to optimize their transfer to different and more complex situations?
I will outline a few methods that can be incorporated into all levels of musical training to maximize the learning and transfer of motor movements, and discuss how these methods can specifically benefit complex extended techniques, hopefully leading to impeccable performances such as the one below of Pression by Helmut Lachenmann (1969), performed by cellist David Stromberg.
Contextual interference
Based on the findings of studies conducted by John B. Shea and Robyn L. Morgan (1979), and Laura A. Stambaugh (2011), I believe that contextual interference is a concept that can be applied to all aspects of musical training and learning to help increase the degree and strength of skill retention. The basic idea behind contextual interference is that the retention of a task can be facilitated by the introduction of extraneous factors during the learning process (Shea & Morgan, 1979).
In the case of basic instrumental techniques, this implies that practicing multiple techniques during a learning session is more beneficial than focusing on a single skill. Although practice in this manner typically slows progress during the early stages of learning, it results in greater levels of retention. Learning under this condition requires the use of multiple processing strategies rather than a reliance on the repetition of movement.
In addition, this type of practice results in better transfer performance of the original skill, especially on tasks of the same or greater complexity than the original (Shea & Morgan, 1979). The implication for musical training in this case is that if skills are well learned through the incorporation of contextual interference, aspects of these skills can be transferred to new situations, especially those of greater complexity. This is particularly important for musicians, as they are constantly performing under new conditions and learning more complex skills and repertoire.
I believe that if this approach is followed over the course of musical training, the learning of new extended techniques will be greatly facilitated, as they can, in most cases, be treated as transfer tasks of previously learned movements.
This method of practicing can also be directly applied to the learning of extended techniques. Musicians often make the mistake of only considering extended techniques within the context of a new piece that is being learned. This restricted context not only results in poor retention of a technique, but also hinders its transfer to other situations.
In complex contemporary music, musicians are sometimes presented with works that feature numerous extended techniques that may not have been previously encountered, as was the case for myself in the percussion solo Mani. Δίκη by Pierluigi Billone (2012) (see video below). Once these techniques are identified, a strategy that I find to be particularly effective is to remove the techniques from the context of the composition, and create various exercises and sequences within which they can be rehearsed. It is important to rotate between different techniques and combine them in various ways so as not to rely on automatic repetition that will not be as effective in retention. These new techniques need to be treated with the same rigour as previously learned instrumental techniques, as this will then allow a musician to effectively transmit the expressivity and meaning of a work in performance.
Deliberate practice
Although the importance of deliberate practice may appear to be evident, it is a concept that can often be overlooked. For maximum benefit, practice must be deliberate; meaning that it must be structured with attention focused on improving a specific aspect of performance (Watson, 2009). This becomes even more important when working with new and perhaps unnatural techniques that demand added concentration. Performers must have a good sense of their attention span, and, as seen above, favour practice sessions that focus on multiple techniques or aspects of training. This allows us to diversify our focus throughout a practice session, resulting in a more efficient and effective learning process.
External focus of attention
Another influential factor in the effective learning of motor skills is to have an external focus of attention. This refers to directing one's attention to the effects of particular movements, rather than to the movements themselves and their associated body parts (internal focus of attention). An external focus of attention generally leads to more effective performance and learning, as it promotes the use of instinctive processes of movement, thereby shortening the initial stages of learning (Wulf, Shea, & Lewthwaite, 2010).
This is a concept that we, as musicians, generally perform automatically with standard techniques and repertoire, as we tend to focus on the sonic result rather than the movements required to produce the sound. However, this may seem difficult to apply to the learning of extended techniques if the sound is foreign to our ears, since we are unsure of the intended result of what we are attempting to achieve. It is therefore normal for the initial stages of extended technique practice to advance more slowly than we may be accustomed to. Instead of discouraging us in our learning, this concept shows the importance of creating an auditory image of what we are attempting to produce during early practice stages, rather than only focusing on the technical aspects of the required movement. One way that this can be achieved is by considering the contexts within which the sound is used throughout the piece, thus placing it in relation to other sounds within phrases or fragments. This allows the body to produce the desired sound in a natural and efficient manner, as can be seen in the video below of percussionist Jonathan Hepfer performing Intérieur I by Helmut Lachenmann (1966), where actions performed on different instruments are connected through their timbral and textural sound qualities.
Mental practice
Lastly, I would like to briefly mention the added benefits that mental practice can provide to complex new music featuring extended techniques, as compared to mental practice in more traditional repertoire. Studies have shown that the effects of mental practice are significantly stronger for tasks that involve more cognitive elements (Driskell, Copper, & Moran, 1994). The learning of music featuring extended techniques often demands greater cognitive involvement from the performer, as the incorporation of new techniques requires new notational systems that the musician must become familiar with, in addition to the fact the music itself is in most cases harder to grasp compared to traditional tonal music. Although mental practice is not meant as a replacement for physical practice, it is important for musicians to spend time with the score away from their instruments. This method of practicing enables more efficient learning when the instrument is reintroduced, as it allows the performer to focus on the physical demands of the extended techniques and their intended sonic result.
Final thoughts
It is my hope that the concepts explored here will provide musicians and educators with methods to approach the learning and performance of music featuring extended techniques in a simple and effective manner. Although this type of repertoire may appear intimidating, I believe that efficient practice habits and an understanding of motor and movement control can create a much more approachable environment, leading to performances of high calibre that the music of today deserves.
References
Brüstle, C. (2009). Timekeepers – sound artists – drum machines: Studies of notation and performance in
contemporary music for solo percussionist. Twentieth Century Music, 6(1), 63-81.
Davidson, J. W., & Correia, J. S. (2002). Body movement. In R. Parncutt & G. McPherson (Eds.), Science
and psychology of music performance: Creative strategies for teaching and learning (pp. 237-250).
Cary, NC, USA: Oxford University Press. Retrieved from
http://site.ebrary.com.proxy3.library.mcgill.ca/lib/mcgill/detail.action?docID=10084808
Driskell, J. E., Cooper, C., & Moran, A. (1994). Does mental practice enhance performance? Journal of
Applied Psychology, 79(4), 481-492. doi:10.1037/0021-9010.79.4.481
Graziano, M. (2006). Feedback remapping and the cortical control of movement. In M. Latash & F.
Lestienne (Eds.), Motor control and learning (pp. 97-104). Boston, MA, USA: Springer US.
Palmer, C. (2006). The nature of memory for music performance skills. In E. Altenmuller, M.
Wiesendanger & J. Kesselring (Eds.), Music, motor control and the brain. Oxford: Oxford University
Press. doi:10.1093/acprof:oso/9780199298723.001.0001
Pascal-Leone, A. (2001). The brain that plays music and is changed by it. Annals of the New York
Academy of Sciences, 930(1), 315–329. doi:10.1111/j.1749-6632.2001.tb05741.x
Shea, J. B., & Morgan, R. L. (1979). Contextual interference effects on the acquisition, retention, and
transfer of a motor skill. Journal of Experimental Psychology: Human Learning and Memory, 5(2),
179-187. doi:10.1037/0278-7393.5.2.179
Stambaugh, L. A. (2011). When repetition isn't the best practice strategy: effects of blocked and random
practice schedules. Journal of Research in Music Education, 58(4), 368-383.
Watson, Alan H. D. (2009). How the performance of music affects the brain. In The biology of musical
performance and performance-related injury (pp. 232- 275). Maryland, USA: Scarecrow Press.
Retrieved from http://mcgill.eblib.com/patron/FullRecord.aspx?p=467511
Wulf, G., Shea, C., & Lewthwaite, R. (2010). Motor skill learning and performance: A review of
influential factors. Musical Education, 44(1), 75-84. doi:10.1111/j.1365-2923.2009.03421.x