Performers alike
Musicians and athletes are not as different as it can seem on the surface. Musicians have realized the use of sports psychology to help with performance anxiety for a while now (Bellon, 2006), but I have a feeling that the physical demands of playing an instrument are often overlooked in the comparison people make between athletes and musicians. Though musicians might not seem like they do as much physical work as athletes, we still place an incredible amount of stress on our bodies, and yet music students are barely trained on how to cope with these demands. Any student attending a university with a place on an athletics team would be offered a personal trainer with very careful instruction on how to be in the best physical shape to perform… so why are music students left in the dark?
What can I do?
This needs to change, and the change starts with educational institutions implementing mandatory anatomy and physical health courses for music students. Among those musicians who have taken things into their own hands in preventing injury, there seems to be a lot of confusion about what kind of training is recommended for musicians. Strength training in particular seems to spark controversial conversations among those planning their fitness regimes (Ackermann et al., 2002). The purpose of this post is to explore the pros and cons of strength training for musicians in order to help clarify when and how it is appropriate to include in a musician's fitness regime. In order to understand how the multiple types of exercise affect the body differently, I've included a short description of each type of training with a few examples of exercise and their benefits.
Musculoskeletal system
It's important going on with this topic to know what muscles are, and how muscles work. There are three different types of muscle: smooth muscle, skeletal muscle, and cardiac muscle (
Dowshen, 2015
). I'll be focusing mostly on skeletal muscle, which are the muscles you can control voluntarily. Our skeleton provides us with a rigid base to support our muscles, and our joints provide us with the possibility for movement, but our muscles (working through our nerves with the motor cortex) make that possibility for movement a reality. Muscles and bones are connected by tendons, which are made of a very tough connective tissue (
Alexander et al., 2017
). If you would like to learn more about this system, I highly recommend this video for both educational and entertainment value:
Muscles are composed of thousands of tiny elastic fibres, and a muscle's strength is largely determined by how many muscle fibres compose said muscle. There are two types of skeletal muscle fibres: slow-twitch muscle fibres, and fast twitch muscle fibres (Fitts et al., 1996). Slow-twitch muscle fibres help with endurance related tasks, whereas fast-twitch muscles are used for much shorter tasks involving more strength (Watkins, 2014).  The type of workout a person does determines what kind of muscle fibres they are reinforcing, and as musicians tend to play their instruments for many hours a day, the benefits of building slow- twitch muscle fibres go without saying. But can musicians benefit from building both types of muscle fibres? The research done in the sports world indicates that certain types of endurance performance can indeed be improved by strength-training supplementation (Hickson et al., 1988).
There hasn't been much musician-based research done in the matter, so I turned to Karen Moffatt: professional violist, personal trainer, yoga and StrongFirst Kettlebell instructor, to see what she thinks. Click on any question of interest to see Karen's answer!
People start exercising for many different reasons. Since you train a very specific group of people who often deal with injury, I was wondering if injury was a major prompt for your clients to get started. Do most of your clients ask for your help only after they have been injured?
­"Yes, people are definitely motivated to start exercising for a variety of reasons. Repetitive strain injury can indeed be something many of my musician clients come up against, in particular.  When their issues are acute, I will habitually send them to a physiotherapist who can address localized pain before they get started on a strength program, and will soon after work in tandem with their physiotherapist to develop a suitable program for them. Clients who want to get started exercising right away, who have been dealing with longer term issues that they know or have been told that exercise might help, are a large portion of my client base as well. Reducing the effects of repetitive stress and other injuries in the body can be a big motivation for someone to seek a personal trainer who understands the demands of playing an instrument as a profession. A good handful of my clients, however, are interested in preventing injury, increasing body awareness, getting more fit and simply getting stronger to have more endurance for playing their instrument. I don't think I have had a single client who has not encountered some level of injury at some point along their path, but many of them are seeking to be proactive about minimizing new risks."
There seems to be some controversy among musicians about the constructiveness of strength training. Some musicians feel it has helped them immensely while others think this kind of training is detrimental to playing their instruments due to a loss of flexibility or pressure sensation in the fingers. What are your thoughts on this?
"Yes, I do witness this controversy and the dilemma of adapting to strength training, vs adapting to play an instrument. In my opinion, appropriate strength training, along with appropriate mobilization techniques that compliment the strength training process, is one of the most constructive ways to build resilience for playing an instrument, over a reasonable period of time. Because I incorporate flexibility and mobility training in my sessions, appropriate amounts of flexibility are not lost due to strength training, and pressure sensation in the fingers is also something that can be addressed through mobility training and physiotherapy. Indeed, strength training without flexibility and mobility training may be somewhat counterproductive to playing an instrument if it is done in an aggressive fashion. However, I always teach to the current needs of the individual and most of the time will work to clear up some of these issues as we gradually and progressively prepare the body to build strength. The variable is the approach that the individual and the trainer takes to strength training, not strength training itself, in my opinion."
Musicians need to deal with harmful static postures and repetitive movements on a daily basis. Do you suggest a combination of all aerobic, strength, balance, and flexibility exercises for optimal use of the body, or focus more on one or two types of training when it comes to helping musicians?
"Yes, these static postures along with repetitive movements are indeed the unfortunate reality of playing orchestral instruments. Allowing for even just a little bit of varied movement more frequently while sitting to play (even though this is not always encouraged in orchestral settings) is one of the single most helpful things a musician can do throughout their career. In addition to this on-the-job awareness, I am indeed a fan of a variety of movement practices to support diversity in movement patterns and flexibility in the body. Aerobic work can help to increase blood flow that will facilitate flexibility training, and strength and balance work will provide a more stable foundation that can make a musician less susceptible to developing compensatory playing strategies."
One thing that really strikes me as being neglected in current research is the different ways the body is being used depending on what instrument someone plays. A trombone player won't need her fingers to be as flexible and sensitive as a violinists, but will definitely need to be strong elsewhere to hold the heavy instrument up. Do the programs you design for musicians change depending on what instrument the client plays?
"There is a book I refer to quite frequently: "The Athletic Musician" by Barbara Paull and Christine Harrison (a violist). They identify postural habits in each of the orchestral instruments (including pianists as well). It is true that woodwind players and brass players will deal with very different issues from string players, not to mention the differences in breathing techniques! I too am passionate about attending to these differences and also the similarities amongst the players. This can be quite helpful for me when working with individuals – knowing what to look for and where I can help the most. The goal of the programs I design do end up being similar, but the process is what is different. Along the path to learning a strength training skill, I will encounter areas that need more attention in some cases, and less attention in others. So, yes, that part does change. I typically know what I will be working with as soon as someone walks in the room! That is the starting point. I don't load major asymmetries before addressing them with a functional movement assessment and corrective exercises that are indeed tailored to the postural habits of each player."
To conclude
There may not have been many studies done on how musicians can benefit (or suffer) from implementing strength training into their fitness regimes, but there have been studies done on the rewards of a well-balanced training program (Katzmarzyk, 2007). If a violinist were to go from not doing any exercise to only doing strength training without mobility exercises, their playing would likely suffer, but if they were to also include aerobic, balance, and especially flexibility exercises into their routine, they might feel that playing their instrument becomes a bit easier. It seems that a well-balanced routine would be the way forward for the time being, until more research can be done. I have written mostly about how exercise affects the playing of an instrument, but the benefits of exercise go far beyond injury prevention and comfort while playing. It has been proven that exercise also reduces stress and anxiety (Otto & Smits, 2011), so start moving! For more information about the benefits of reducing stress, check this blog out.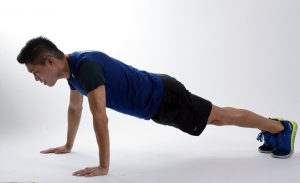 Further reading
Strength training doesn't only involve lifting weights! Though lifting weights is a great way to increase muscle strength, resistance bands (great for use at home) and exercises using the weight of your body are also options. If you'd like to start incorporating some strength training into your life but you don't necessarily want to get a gym membership, refer to the sites below for some basic strength-focused workouts you can even do at home! That being said, to help you find the right workout for your needs, and also to make sure you learn proper technique to avoid injury and learn maximum efficiency, as well increasing your chances of exercises long-term, seeing a personal trainer comes highly recommended (McClaran, 2003).
Click here for a video of an at-home workout using no equipment to get you started.
This website offers great clips to accompany instructions on upper-body strengthening exercises.
This website does not focus solely on strength training, but includes 10 different and terrific workout videos for beginners!
Author: Florence Rousseau