Introduction
In this blog, I will expand on the benefits musical improvisation offers humans from a neurological perspective. Studies have found that spontaneous music making produces singular effects in the brain that have proven to be beneficial to humans. Therefore, I encourage everyone to read the case I make for improvisation and hope non-improvising musicians feel encouraged to pick-up this enjoyable and valuable activity.
General Benefits of Music
Many scholars have articulated the numerous ways in which humans benefit from participation in musical activity. Furthermore, the value of music has also been highlighted in its role in society and its value to the emotional and medical well being of individuals. Hallam, Luzha, Klopper and Younghusband (2005) identify 13 key areas in which music benefits human beings:
Individual Skill Development: Music making involves auditory, intellectual, physical, emotional, communication and musical dexterity. Playing music also requires very high levels of concentration.
Responses to Music: Music is experienced physiologically (e.g. changes in heart rate), in movement (e.g. dance), through emotion, and cognitively.
The Function of Music in Society: Every studied society has exhibited engagement in music in any form (Blacking, 1973; Greene, 2003). Therefore, music is inherent in our uves, as many human activities (e.g. birthdays, funerals, graduations, weddings) are related to music.
Communication: Music provides the framework to express human feelings and has the power to bring people together.
The Anti-Establishment Role of Music: Music can allow the expression of an identity that is counter to societal norms and therefore plays an important role in the change of a culture's customs.
Music in Everyday Lives: Now more than ever music is part of the daily lives of individuals, in great part due to technological advancements. Musical capital can easily be acquired, which then facilitates musical engagement and also allows some of the benefits of this list to take place.
Music in Art: Music is an integral part of other art forms like film and theater. Memorable soundtracks, operas, and show tune songs have elevated the quality of the works of cinematographers and play writes.
The Music Industry: The industrialization of music employs many people that are directly or indirectly related to the art form.
The Effects of Music on Early Development: Music is important in the development of fine motor activities, language skills, some aspects of somatosensory coordination among other things.
Personal and Social Development: Involvement in music has proven to have positive outcomes on children's personal and social development.
Music for All: Music is an art form in which anyone can participate. This interaction allows people to benefit from the other 12 items that appear on this list.
Music, Commerce, Advertising and Work: Societies have always used music as a way to enhance their daily lives. Catchy songs have been composed to promote particular items that provoke people to think in such articles and thus increase their sales.
Music and Medicine: Music is nowadays used for medical benefits. Music reduces anxiety and pain, relaxes individuals, improves recovery rates, and stimulates the immune system among other things.
You, The Night, The Music & The brain
The Brain & Music
With regards to the brain, studies have shown that engaging in music contributes to the development of executive functions (e.g. working memory, self-inhibition, and mental flexibility), and cognitive processing skills (Barrett & Bond, 2015; Bigand & Poulin-Carronnat, 2006; Jones & Estell, 2007; Patel & Iverson, 2007) [See Image 1].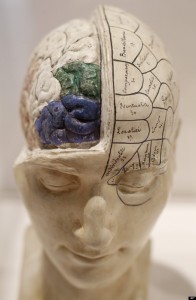 Even though the field of neuroscience and music is still in development, researchers have demonstrated that music, as well as other activities, creates a specific reaction in the cerebral cortex (Pantev, Engelien, Candia, & Elbert, 2003). Such a response has been extensively studied and related to the functional organization of the cerebral cortex. Such research has allowed the examination of sensory cortical areas in the somatosensory and auditory systems and provides an effective model for studying the neurological changes that are correlated with musicianship.
Speech and music share similar neurological processing systems. Musical training during early childhood enhances auditory perception, thus improving the brain's development of encoding linguistic sound (Hallam & Macdonald, 2013). With regards to music playing, Elbert, Pantev, Wienbruch, Rockstroh and Taub (1995) found a strong correlation between music and memory potential. Furthermore, string players showed an enlarged cortical representation during finger movement while playing an instrument. This suggests that the representations of different parts of the body in the primary somatosensory cortex of musicians are shaped in accordance to the use and needs of such individuals.
In a Neurological Mood- Improvisation & The Brain
What happens in the brain during spontaneous music making?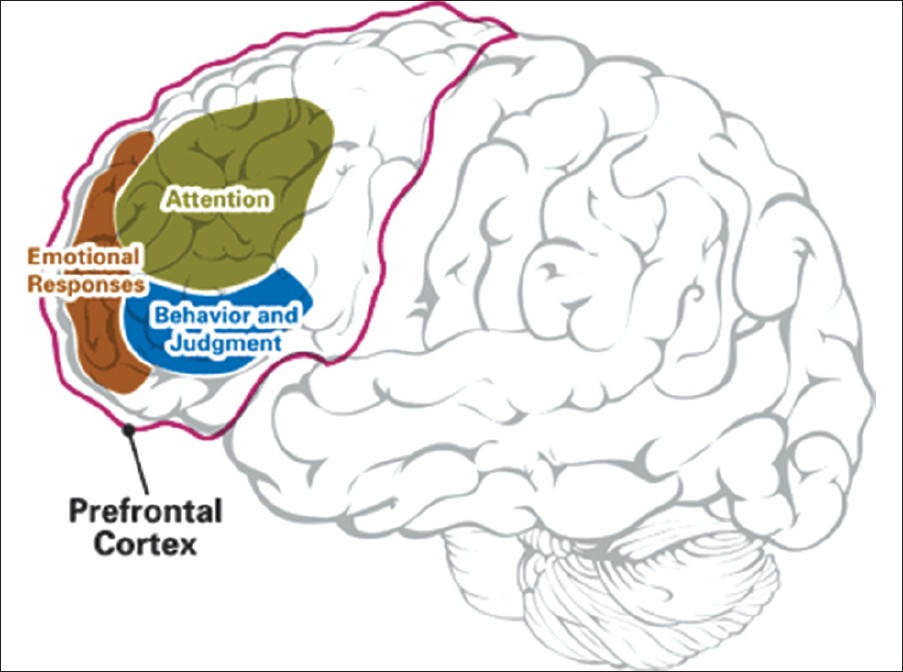 Research suggests that the neurological patterns created in the brain during spontaneous music making may offer understandings of
cognitive dissociations
that may lead to insight into the human creative process. Studying improvisation has proven to be a fruitful resource that can enlighten what occurs outside of conscious awareness and volitional control.
Limb and Braun (2008) found that spontaneous music improvisation is characterized by widespread deactivation of lateral portions of the prefrontal cortex as well as focal activation of the medial prefrontal cortex. This phenomenon occurs regardless of the degree of musical complexity. The lateral prefrontal cortex, among other things, is associated with human emotional responses, attention, behavior, and judgment (De Sousa, 2013).
Jazz Improvisation
Improvisation in jazz music is an intrinsic expression of an artist's own musical viewpoint. Limb and Braun (2008) believe that improvisation is a manner in which one can express a musical voice or story. They base their assumption upon the results of their research, which showed a relation between the dorsal portions of the medial prefrontal cortex (MPFC)[See image 3] and autobiographical narrative, which are connected in this context. These authors expose that activity of the MPFC during improvisation is part of a developing idea, stating that spontaneous music making is related to neural representation of self, organizing internally motivated, self-generated, and stimulus-free behavior.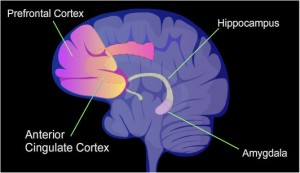 As innovative and groundbreaking as Limb and Braun's research is, with regards to jazz improvisation, many practitioners of this genre would argue that legitimate improvisation in this music is interactive. That is why, arguably, the research by Donnay, Rankin, Lopez-Gonzalez, Patpong, and Limb (2014) provides a genuine understanding of what happens to the brain during jazz improvisation, as it examined the brain during interactive improvisation between two pianists. They report that musical conversations between jazz musicians activates parts of the brain associated with language and the processing of the type of syntaxes that does not depend on semantic analysis. Improvised exchanges activate Broca's and Wernicke's area, two perisylvian language regions. Therefore, these authors conclude that jazz improvisation is associated with language regions within the brain. The Broca and Wernicke areas of the brain are the classic language regions of the brain (Blank, Scott, Murphy, Warburton & Wise, 2012). Broca is associated with speech production while Wernicke is known to be active during the comprehension of language (Catania, Jones & Ffytche, 2004) (See Image 4). In conclusion, improvisation within the jazz language activates neural regions associated with spoken language, meaning that jazz playing is a form of communication from a neuroscience perspective.
Lyric Improvisation
Lyric improvisation has had similar effects on the brain as musical improvisation. Spontaneous lyrical improvisation is a multidimensional form of creativity that combines music and language. A study regarding vocal spontaneous music making found activity in the frontal lobe, activation of medial and deactivation of dorsolateral cortices and, by contrasting it with rehearsed speech, lyrical improvisation provokes altered relationships in cerebral regions such as the prefrontal cortex, just like in jazz improvisation.Altered relationships within the prefrontal cortex have widespread functional consequences, which affect motivation, emotion, language as well as motor control (Liu, et al., 2012)
They'll Never Take Your Complex Neurological Connections Away From You-  What benefits does music improvisation offer musicians?
Complex Neurological Connections
Duffau (2014) exposes that musical training that involves complex forms of improvisation, such as jazz improvisation, generate a system of complex neurological connections. These networks are related to creativity and spontaneity. Conversely, musicians that are not trained in musical improvisation do not demonstrate the same neurological network during music playing. This idea is supported through the research realized by Pinho, Manzano, Fransson, Eriksson, and Ullen (2014) in which they examined the development of musical improvisation by analyzing the brain activity of both jazz and classically trained pianists. This research consistently showed that skilled improvisers have developed solid neurological connections, whereas non-improvising musicians did not illustrate such networks.
The results of this study state that the development of creativity in music is positively linked to functional connectivity of bilateral dorsolateral prefrontal cortices, dorsal premotor cortices, and pre-supplementary areas. These findings illustrate that neural mechanisms associated to creative practices, which require a flexible connection of novel and meaningful output, can become reflexive through training. Therefore, these particular neurological connections, that provide brain flexibility and are related to creativity, can flourish through improvisation training. It is also important to point out that development of spontaneous music competencies can modify functional brain properties (Pascual-Leone, 2001).
Improvement of Creativity
In addition to developing complex neurological connections (Duffau, 2014), improvisation makes the brain adapt and change, as any physical activity would do to other parts of the body (Watson, 2009). Therefore, researchers argue that skills on improvisation can be developed through training (Pinho, de Manzano, Fransson, Eriksson, & Ulle, 2014). As improvisation is by nature a creative activity used in many forms of music (Campbell, 2003; Dufrasne, 2004; López-González & Limb, 2012), it might be a good stimulus for any person's creativity. Yet one of the obstacles that dissuade musicians from engaging in improvisation is the foreign nature of it. But training in improvisation will lead to a better practice of the skill. In conclusion, I encourage readers to take part in spontaneous music making; it will develop unique neurological connections, change the way your brain works, and probably improve your creativity.
Lyrical Improvisation
Through freestyle rap, a research evaluated spontaneous lyrical improvisation, which is a multidimensional form of creativity that combines musical and vocal improvisation. Results provoked altered relationships in cerebral regions. Researchers believe that these functional reorganizations may lead to the initial improvisatory phase of creative behavior. The study also found that altered relationships within the prefrontal cortex have widespread functional consequences. These interactions affect motivation, emotion, language as well as motor control (Liu, Ming-Chow, Xu, Erkkinen, Swett, Eagle, Rizik-Baer, & Braun (2012).
This study elicits a bit of a controversy, in my opinion. Duffau (2014) states that only complex forms of improvisation are beneficial to the body. Yet, what is a complex form of spontaneous music making? Improvisation varies among musical tradition. Playing a chromatic scale over a Bebop tune doesn't constitute jazz improvisation or banging a conga in Cuban Rumba session does not make an improvisation in this Afro-Cuban tradition. I would argue that the freestyle rap study shows that any form of improvisation could develop the complex neurological connections jazz improvisation creates. Therefore, I believe that any form of improvisation in which one learns the intricate language of a particular music tradition or scenery will create similar effects in the brain.
Relations to Meditation & Dreaming
Yes! You read it correctly. Improvisation has a similar effect on the brain as states of meditation, dreaming and hypnosis. Duffau (2014) suggests that complex spontaneous music making comprises a wider neurological network than other forms of music improvisation. This author bases his assumption due to the results of neuroimaging studies where it was found that cerebral regions deactivated during improvisation also rest during meditation and dreaming (Lopez-González & Limb, 2012). Altered states of consciousness, such as meditating, hypnosis, dreaming, runner's high, daydreaming, and drug induced states, are characterized for causing deactivations in the prefrontal cortex of the brain. The prefrontal cortex is related to social constraints, time awareness, and focus of attention. During an altered state of consciousness, deregulations occur in this part of the brain, making individuals loose track of time, social consciousness and change attention (Dietrich, 2002). These deactivations in the brain have also been found during improvisation. Braun and Limb (2008) found complex spontaneous music making causes the combination of internally generated self-expression through the medial prefrontal cortex, and reduction of activity in the dorsolateral prefrontal cortex (López-González & Limb, 2012). So there you have it, improvisation is an activity, that similar to meditation, can relieve us from social constraints and even becomes a form of relaxation.
The Curious Case Of Pat Martino & Cognitive Rehabilitation
Pat Martino is a world known American jazz guitarist and composer. He is one of the greatest jazz musicians of his generation and has had a distinguished career. In 1979 he discovered that he suffered from arteriovenous malformation (Oxford Music Online, 2016). Brain arteriovenous malformations are uncommon cerebral vascular malformations. This illness manifests itself through spontaneous intracranial hemorrhages with high mortality and morbidity (Machet, Portefaix, Kadziolka, Robin, Lanoix & Pierot, 2012). Young and healthy individuals suffer from this disease. Treatment options include surgery, endovascular embolization, and radiosurgery (Soize, Bouquigny, Kadziolka, Portefaix & Pierot, 2014). In order to correct the diseases, Martino underwent a surgical procedure named left temporal lobectomy. After the procedure, retrograde amnesia and complete loss of musical interest and capabilities afflicted the jazz guitarist. However, Martino regained his distinctive playing style through practice and transcription of his previous work. After analyzing his brain, it was found that parts of his brain associated with long-term memory and musical processing abilities recovered. (Galarza, et al., 2014).
The curious case of Pat Martino raises an important question; what effect could improvisation have in damaged areas of the brain related memory and music playing? Duffau (2014) produces a hypothesis correlating brain plasticity (ability the brain has to change and reorganize) and complex music improvisation. This author argues that improvisation can contribute to cerebral reorganization and function as cognitive rehabilitation after a temporal lobectomy. His hypothesis is based on the recuperation of Pat Martino and given that improvisation is nowadays been proposed as a new form of therapy for neurologically impaired individuals (Tomaino, 2014). Think about it, after suffering from musical disinterest and amnesia, Pat Martino recovered such faculties after a long period of music training that primarily consisted of improvisation. One has to admit that this hypothesis has not been corroborated and is primarily based on intuition. Yet, improvisation could prove to be useful if musicians find themselves in the dire position of losing functions in regions of the brain.
Summary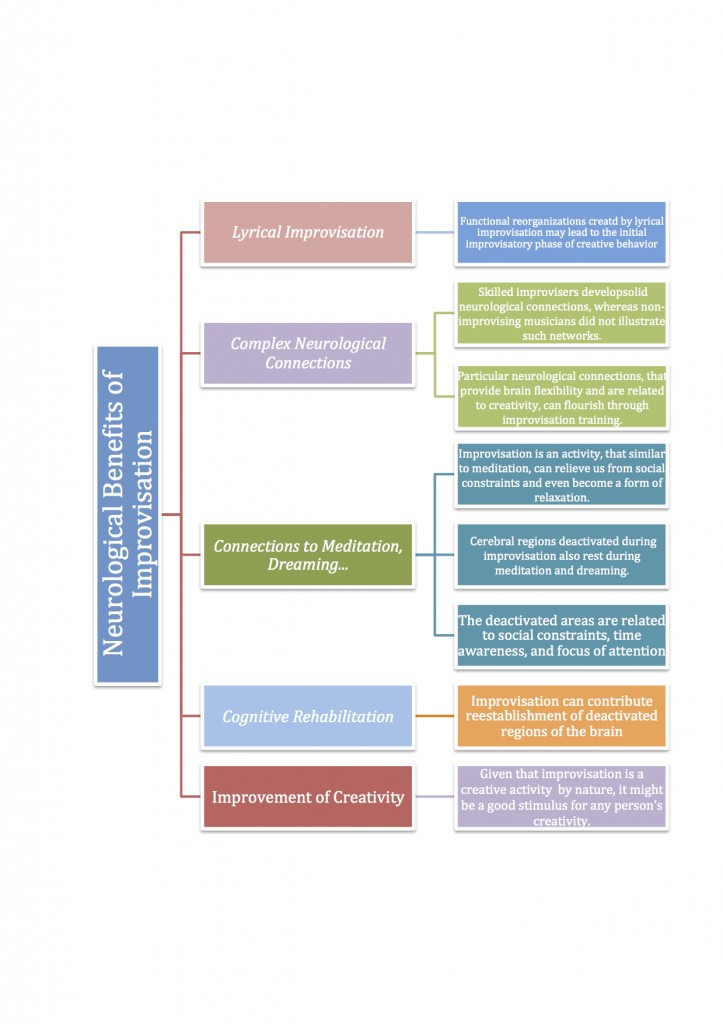 References

'Barret, M., & Bond, N. (2015). Connecting through music: The contribution of a music programme to fostering positive youth development. Research Studies in Music Education, 37(1), 37-54. doi: 10.1177/1321103X14560320

Bigand, E., & Poulin-Cahrronnat, B. (2006). Are we ''experienced listeners''? A review of the musical capacities that do not depend on formal musical training. Cognition, 100(1), 100-130. doi: 10.1016/j.cognition.2005.11.007

Blacking, J. (1973). How musical is man? Seattle: University of Washington Press.

Blank, S., Scott, S., Murphy, K., Warburton, E., & Wise, R. (2012). Speech production: Wernicke, Broca and beyond. Brain, 125 (8), 1829-1838. doi: http://dx.doi.org/10.1093/brain/awf191

Campbell, P. (2003). Ethnomusicology and music education: Crossroads for knowing music, education, and culture. Research Studies in Music Education, 21(1), 16-30. doi: 10.1177/1321103X030210010201

Catani, M., Jones, D., & Ffytche, H. (2004). Perisylvian language networks of the human brain. Annals of Neurology, 57(1), 8-16. doi: 10.1002/ana.20319

De Sousa, A. (2013). Towards an integrative theory of consciousness: Part 1 (Neurobiological and cognitive models).  Mens Sana Monographs, 11(1), 100-150. doi: 10.4103/0973-1229.109335

Dietrich, A. (2002). Functional neuroanatomy of altered states of consciousness: The transient hypofrontality hypothesis. Consciousness and Cognition, 12, 231-256. doi: 10.1016/S1053-8100(02)00046-6

Donnay, G., Rankin, S., Lopez-Gonzalez, M., Patpong, J., & Limb, C. (2014). Neural substrates of interactive musical improvisation: An FMRI study of "trading fours" in jazz. PLoS ONE, 9(2), 1-10. doi: 10.1371/journal.pone. 0088665

Duffau, H. (2014). Jazz improvisation, creativity, and brain plasticity. World neurosurgery, 81(3-4), 508-510. doi: 10.1016/j.wneu.2013.10.006

Dufrasne, E. (1994). Puerto Rico tiene tambó: Recopilación de artículos sobre la plena y la bomba. Río Grande, Puerto Rico: Paracumbé.

Elbert, T., Pantev, C., Wienbruch, C., Rockstroh, B., & Taub, E. (1995). Increased cortical representation of the fingers of the left hand in string players. Science, 270(5234), 305–307. doi: 10.1126/science.270.5234.305

Galarza, M., Isaac, C., Pellicer, O., Mayes, A., Broks, P., Montaldi, D., … Simeone, F. (2014). Jazz, guitar, and neurosurgery: the Pat Martino case report. World neurosurgery, 81(3), 651-e1-651-e2. doi: 10.1016/j.wneu.2013.09.042

Green, L. (2003). Music education, cultural capital, and social group identity. In M. Clayton, T. Herbert, & R. Middleton (Eds.) The cultural study of music: A critical introduction (pp.263-273). New York: Rutledge.

Hallam, S., Luzha, B., Klopper, C., & Younghusband, P. (2005). How to advocate for music: Personal stories of music education. International Journal of Music Education, 23(2), 145-148. doi: 10.1177/0255761405052410

Jones, M., & Estell, D. (2007). Exploring the Mozart effect among high school students. Psychology of Aesthetics, Creativity, and the Arts, 1(4), 219-224. doi: 10.1037/1931-3896.1.4.219

Limb, C., & Braun, A. (2008). Neural substrates of spontaneous musical performance: An fMRI study of jazz improvisation. PLoS ONE, 3(2), 1-9. doi: 10.1371/journal.pone.001679

Liu, S., Ming-Chow, H., Xu, Y., Erkkinen, M., Swett, K., Eagle, M., … Braun, A. (2012). Neural correlates of lyrical improvisation: An fMRI study of freestyle rap. Scientific Reports, 2(834), 1-8. doi: 10.1038/srep00834

López-González, M., & Limb, C. (2012). Music creativity and the brain. Cerebrum, 2(2012), 1-15.

Machet, A., Portefaix, C., Kadziolka, K., Robin, G., Lanoix, O., & Pierot, L. (2012). Brain arteriovenous malformation diagnosis: value of time-resolved contrast-enhanced MR angiography at 3.0T compared to DSA. Diagnostic Neuroradiology, 54(10), 1099-1108. doi: 10.1007/s00234-012-1024

Oxford Music Online (2016). Pat Martino. Retrieved from http://www.oxfordmusiconline.com/subscriber/article/grove/music/A2276038

Pantev, C., Engelien, A., Candia, V., & Elbert, T. (2001). Representational cortex in musicians. Annals of the New York Academy of Sciences, 930(2001), 300–314. doi: 10.1111/j.1749-6632.2001.tb05740.x

Pascual-Leone, A. (2006). The brain that plays music and is changed by it. Annals of the New York Academy of Sciences, 315(1), 315-329. doi: 10.1111/j.1749-6632.2001.tb05741.x

Patel, A. D., & Iversen, J. R. (2007). The linguistic benefits of musical abilities. Trends in Cognitive Sciences, 11(9), 369–372. doi: 10.1016/j.tics.2007.08.003

Pinho, A., de Manzano, O., Fransson, P., Eriksson, H., & Ullén, F. (2014). Connecting to create: Expertise in musical improvisation associated with increased functional connectivity between premotor and prefrontal areas. The Journal of Neuroscience, 34(18), 6156-6163. doi: 10.1523/JNEUROSCI.4769-13.2014

Soize, S., Bouquigny, F., Kadziolka, K., Portefaix, C., & Pierot, L. (2014). Value of 4D MR angiography at 3T compared with DSA for the follow-up of treated brain arteriovenous malformation. American Journal of Neuroradiology, 35(10), 1903-1909. doi: 10.3174/ajnr.A3982

Tomaino, C. (2014). Creativity and improvisation as therapeutic tools within music therapy. Annals of the New York Academy of Sciences, 1303(1), 84-86. doi: 10.1111/nyas.12224

Vincent, A. (2014). Lauryn Hill releases 'Consumerism' song upon prison release. The Telegraph. Retrieved from: http://www.telegraph.co.uk/culture/music/music-news/10355215/Lauryn-Hill-releases-Consumerism-song-upon-prison-release.html

Watson, A. (2009). The biology of musical performance and performance-related injury. Maryland: Lanham.