An introduction
In what ways can we adapt our practicing strategies to achieve optimal health and efficiency?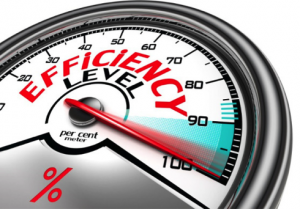 In today's music performance environment, students are expected to devote a great deal of their time to rehearsal. Beyond group rehearsals, sectionals, lessons, coachings, etc., it is necessary students rehearse individually on a regular basis. The amount of time devoted to this individual, physical practice varies among musicians. At the extreme ends, violinists and pianists typically can practice up to 8 hours per day while most singers hesitate to practice more than 2-3 hours daily. Often, students find that their physical rehearsal strategies are insufficient to achieve their goals. Therefore, they might employ other methods of rehearsal which do not tax the physical body. In this post, I'd like to present the current science behind mental rehearsal (in its many formats), the physiological evidence that supports its efficiency, and how students might integrate this strategy into their busy schedules (and maybe even help to prevent overuse!)
How do we learn?
What are the physiological mechanisms of learning?
In order to understand rehearsal, and particularly mental rehearsal, we must first understand the physiological structures which allow for learning and memory formation in the brain, as these facilitate effective rehearsal.
The nervous system is a primary system of the human body and acts as the pathway through which chemical and electrical messages are relayed among cells, resulting in voluntary and involuntary functions. The nervous system is comprised of two subsystems: the central nervous system (CNS) and the peripheral nervous system (PNS) (Norden, 2014).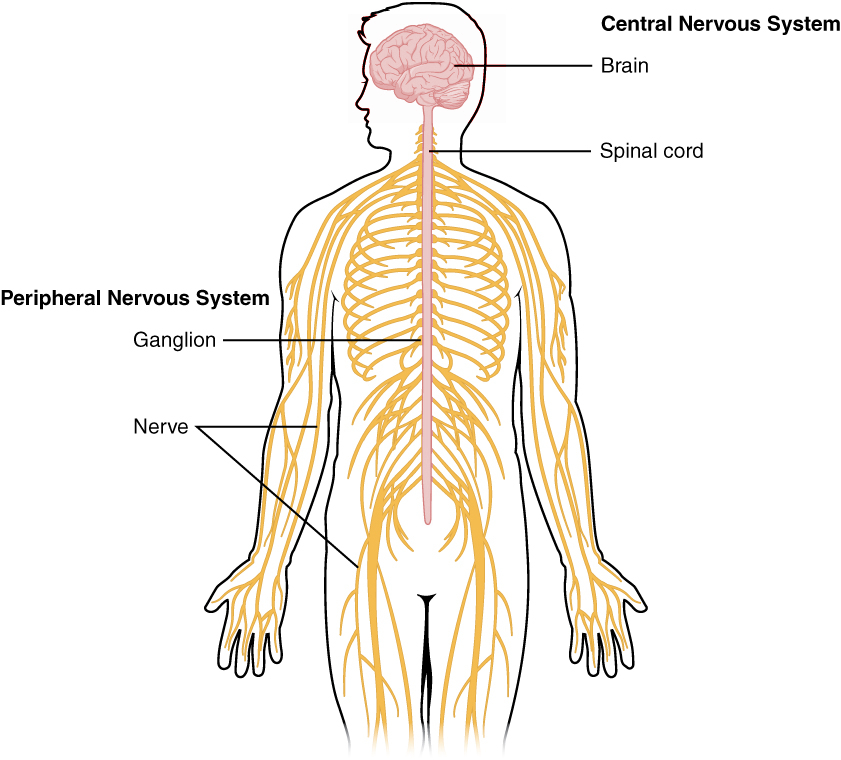 CNS: The central nervous system is comprised of the brain and the spinal cord, which are both protected in bone. The vertebrae encase the spinal cord and the cranium cases the brain. These parts of the body are protected by bone as they are absolutely necessary for survival.
PNS: The peripheral nervous system contains all the neural bodies which are not in the brain and spine and are not encased in bone.
Learning and memory, which are interrelated brain functions, begin in the cells which make up the brain. These are called neurons. Neurons are cells which are excitable by both electrical and chemical signals. These cells process and transmit information with extreme quickness throughout the body. The space between two neurons is called the synapse, and it is through this space that the brain cells transmit information (Norden, 2014).
On a basic level, science understands that the function of memory is a physical change in the synapse between neurons and, on a greater level, between networks of neurons (Hölscher, 2001).
When two neurons are simultaneously active frequently, the cells develop physical changes which facilitate more efficient communication. This is accomplished in two ways:
Dentritic spines: Dendritic spines develop on the dendrites of neurons in order to come closer to the pre-synaptic nerve. (spines drawing)
Axon branching: Axon branching occurs when an axon of the pre-synaptic nerve develops a branches which approach the dendrites of the post-synaptic nerve.
To watch a video explaining the passing of signals between two neurons, see below.
The process by which the pre- and post-synaptic neurons come closer together is called long-term potentiation. Hölscher (2001:2) describes this as the "selective, use-dependent increase or facilitation of synaptic transmission in neuronal circuits." In other words, when brain cells transmit signals repetitively through the same networks of neurons, these networks become increasingly interconnected and more efficiently transmit signals. It is when use-selective changes occur in the neural map that we are able to store memory. Therefore, long-term potentiation is an essential biological process involved in music students' rehearsal and development of musical skills.
What is involved in a typical music student rehearsal?
In all, students have many goals when they enter the practice room. This practice is necessary for learning and memory as it facilitates the strengthening of synaptic relationships, or increasing long-term potentiation in the pathways which effect music-making. For different musicians, practice involves a great many approaches. Often, rehearsal includes warm-ups and rehearsal of technical skills through exercises on breathing, scales, staccati, legato, dexterity, etc. Then, musicians might focus on a passage which they are trying to master, beginning slowly and speeding up, or working from end to beginning.  On another piece, for which they have already gained technical skills to play, they may rehearse the entire piece to prepare for performance. If they play an instrument which requires memorization, they may test their state of memorization or begin to memorize using a number of strategies.
This all seems like a pretty taxing process, right? This is certainly true, as a case study by Schloneger (2011) demonstrated graduate voice students can spend up to 40 hours in rehearsal per week during intense study periods. This great amount of rehearsal external to the daily practice, including ensemble work and group rehearsal, is expected of students. Such a time-heavy practice schedule necessitates finding other ways to effectively rehearse while minimizing impact on the body.
Could mental rehearsal alleviate some of the stress of traditional rehearsal?
The number of definitions that accompany the term mental rehearsal/imagery are quite varied. However, the multiple understandings of what constitutes mental rehearsal presents students a variety of options to develop their practicing efficiency while minimizing over-taxation of the body.
Mental rehearsal has been described as "the imaginary rehearsal of a physical skill in the absence of gross muscular movements" (Theiler & Lippmann, 1995:329) but also may include rehearsal of "cognitive (skill or strategy rehearsal) and motivational (skill mastery, arousal regulation, goal setting)" elements, among others (Gregg, Clark & Hall, 2007:232). For me, mental practice may include but is not limited to mentally rehearsing any aspect of your music making, including its expressive and emotional elements, text, auditory elements and even the social elements involved in music making.
In order to consider the effectiveness of mental rehearsal strategies, I'd like to discuss what the scientific studies have concluded about their use.
What kinds of mental rehearsal strategies are music students currently using, and to what end?
In a study by Gregg, Clark and Hall (2007) of 159 music students of any gender, instrument or voice type, researchers collected self-reported data on students' use of mental rehearsal using Paivio's Framework of five subtypes of mental rehearsal/imagery: Cognitive Specific (ex. imagining rehearsing an appropriate note attack), Cognitive General (ex. running through an entire piece), Motivational Specific (ex. imagining the atmosphere of a performance), Motivational General-Mastery (ex. imagery to increase focus) and Motivational General-Arousal imagery (ex. mental imagery to control anxiety). Students reported using the MG-M imagery most frequently, followed by the cognitive imagery types, and the least use was of MS imagery. Though it is not indicated exactly why students tend to use imagery to rehearse cognitive elements of music, one may deduce that these types of mental rehearsal are the most relevant to the needs of music students.
Is mental rehearsal effective?
Another study by Johnson (2011) examined the effectiveness of mental rehearsal of tempo stability using two subgroups of mental rehearsal: motor and non-motor imagery. Generally, motor rehearsal involves imagined mastery of skills of dexterity and the physical execution of music making, while non-motor imagery may involve musical expressiveness and auditory elements of music. Interestingly, the research suggested no great difference in tempo fluctuation employing motor or non-motor imagery. Therefore, both of these kinds of mental rehearsal may be useful to musicians wishing to rehearse without taxing their physical bodies.
Memorization of music is asked of many kinds of music students, yet students are not always aware of the most efficient memorization strategies. The research suggests mental rehearsal can be a useful strategy for musicians trying to memorize their music. In fact, Theiler and Lippmann (1995) hypothesized that a combination of physical and mental rehearsal would be at least as effective as solely physical rehearsal to achieve memorization. Their study on guitarists and vocalists and memorization efficiency indeed found that both types of musicians could memorize unfamiliar excerpts equally as efficiently employing solely physical rehearsal and a combination of mental and physical rehearsal. These findings are significant as they suggest students may find memorization success by equally varying their use of mental imagery and physical rehearsal. This will result in a less taxed physical body and an equally successful performance.
It's all in your head: Why is mental rehearsal effective?
All of this information indicates that mental rehearsal can be an effective part of a musicians' practice strategy. Let's discuss what is happening physiologically when we rehearse mentally and what physiological changes indicate mental rehearsal's usefulness.
Functional magnetic resonance imaging (fMRI) scans have been used to study brain activity during overt and imagined singing, providing us with insight in to how our brain is activated during music making and what may make musicians' use of mental imagery an effective rehearsal strategy.
During overt rehearsal, activation was recorded in the "primary sensorimotor cortex bilaterally…[and in the] secondary motor areas…basal ganglia, the thalami, the cerebellar hemispheres and the vermis"(Kleber, Birbauer, Veit, Trevvorrow & Lotze, 2007:892). Researchers found that the primary auditory cortex was also activated bilaterally during overt singing. Both Broca's and Wernicke's areas, which are related to speech functions, were activated. Interestingly, the fMRI scans revealed that areas involved in emotional processing are also active during physical rehearsal.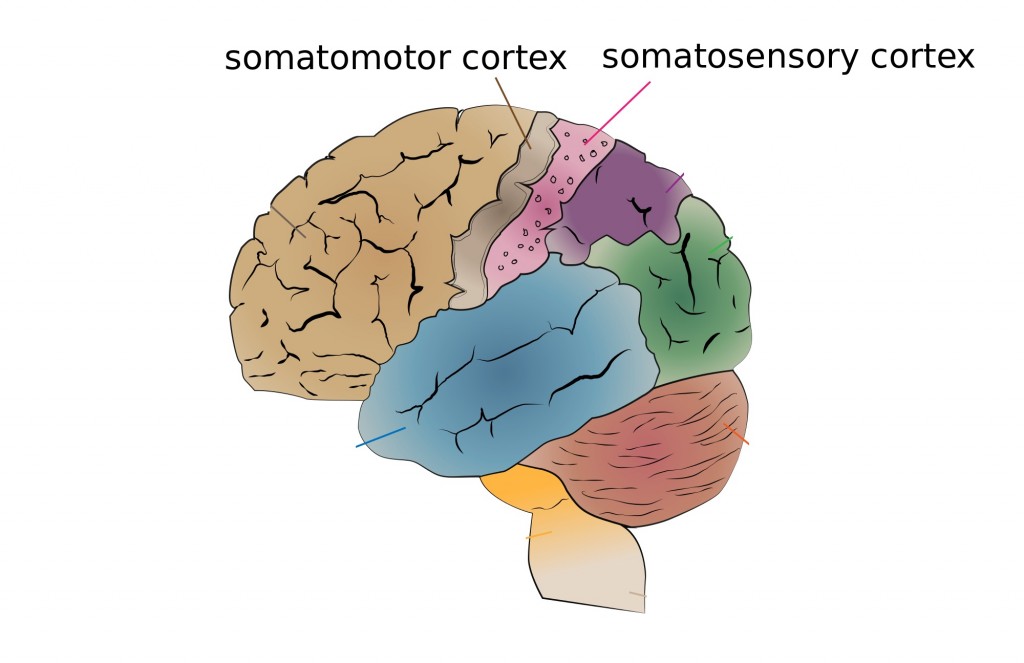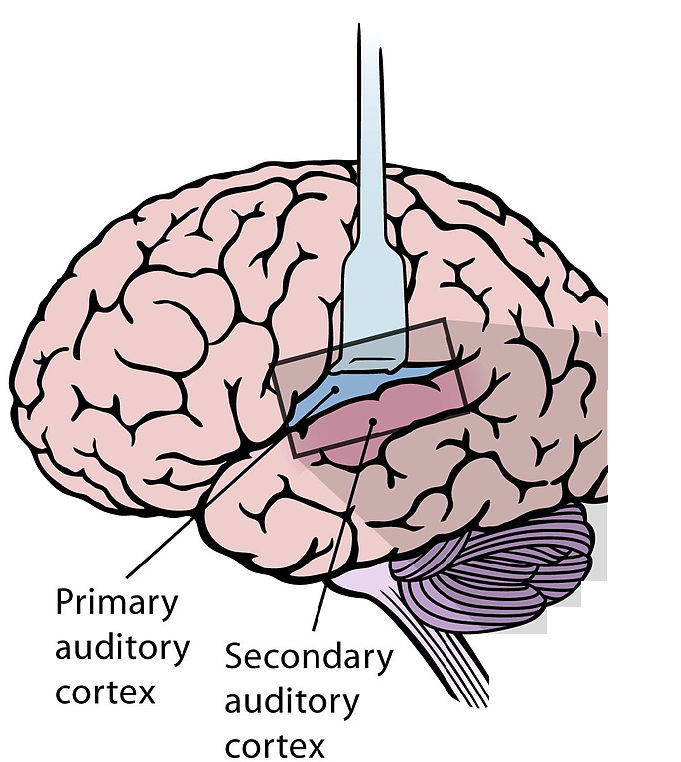 Scans of musicians' imagined singing revealed some similarities with overt singing. During imagined rehearsal, both secondary and tertiary motor areas were found to be active. The researchers note the significance of activation in the primary motor and somatosensory cortex and the thalami during imagined singing. Additionally, like overt singing, areas involved in emotional processing were activated greatly (Kleber, Birbauer, Veit, Trevvorrow & Lotze, 2007)
What is the significance of current fMRI research?
Researchers from this study note that "most of these areas related to motor processing were also active during imagery"(Kleber et al., 2007:898). This could provide a physiological indication as to why many psychological and and music educational studies have found mental rehearsal to have significant benefits for achieving overt performance goals. Although we would expect areas of motor processing have no need to be activated during mental rehearsal, fMRI scans reveal they are indeed at work. When areas of the brain are activated, neural networks strengthen and long-term potentiation occurs. Therefore, if areas related to motor processing activate during mental rehearsal, music students can strengthen their musical sensory skills via mental rehearsal.
Currently, this research must serve as a guide for all musician types when searching for physiological evidence correlating mental rehearsal of music to physical performance skills development. Hopefully, further studies of brain activation during overt and imagined rehearsal of other instruments will provide the music community with greater insight into the idiosyncrasies of brain activation among varying types of musicians.
What do I do now?
How can we implement this information into our own schedules?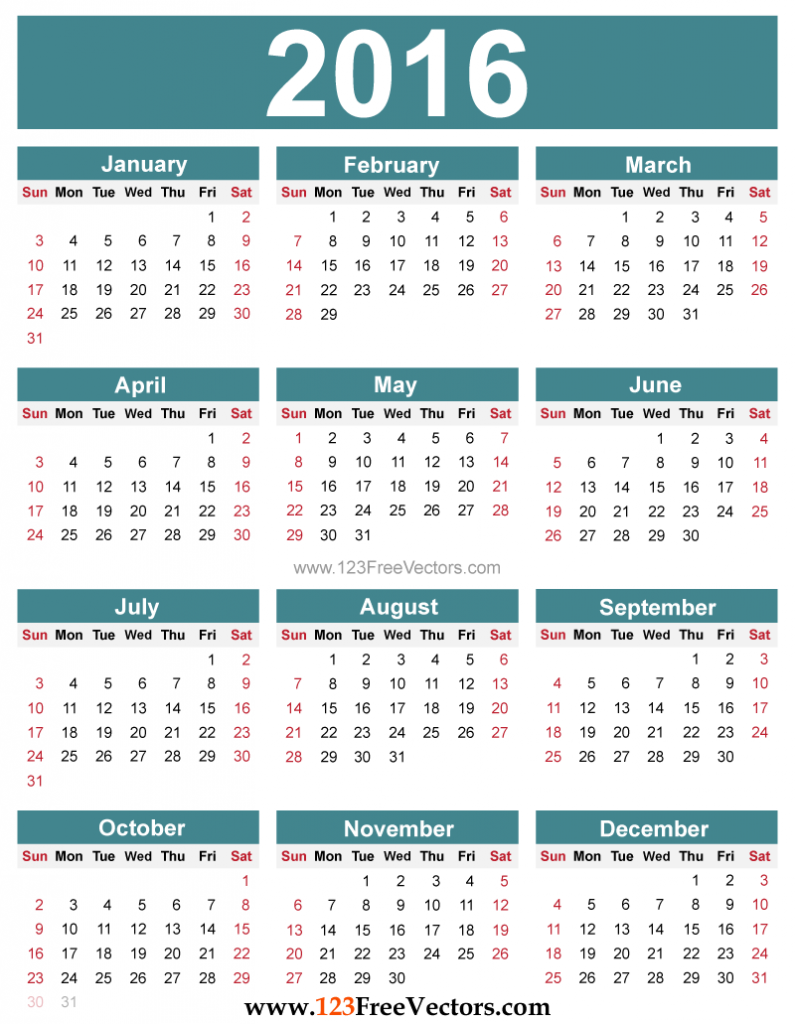 It is my impression mental rehearsal skills are not greatly encouraged among musicians and their teachers, especially among certain instrumental specializations. However, there is a great deal of evidence to support the efficacy of mental rehearsal for development of many kinds of musical skills. The attitude surrounding the rehearsal skill is changing, as evidenced by the growing number of studies on the topic. I advice any music student who is finding themselves physically taxed by the amount of rehearsal time expected of them to begin to slowly integrate mental rehearsal for one kind of skill. Find what works for you, your lifestyle, and your energy level! No one mental rehearsal strategy works for all, but there may certainly be a technique which just as efficiently facilitates your learning process while relieving you of the physiological stress of overt rehearsal.
References
References
Brockmann, C.L. (2009). Auditory cortex frequency mapping [Online Image]. Retrieved April 12, 2016
from https://upload.wikimedia.org/wikipedia/commons/e/ec/Auditory_Cortex_Frequency_Mapping.svg
Free editable 2016 calendar [Online Image]. (2016). Retrieved April 10, 2016 from
http://img1.123freevectors.com/wp-content/uploads/new/celebrations- holidays/editable-2016-calendar-free-
vector.png
Gregg, M.J., Clark, T.W., & Hall, C. R.. (2007). Seeing the sound: An exploration of the use of mental imagery by
classical musicians. Musicae Scientae, 12(2), 231–247. doi: 10.1177/102986490801200203
Hölscher, Christian. (2001). Neuronal mechanisms of memory formation : Concepts of long-term potentiation and
beyond. Cambridge: Cambridge University Press.
Interiot. (2006). Neuron [Online Image]. Retrieved April 12, 2016
from https://upload.wikimedia.org/wikipedia/commons/b/b5/Neuron.svg
Jkwchui. (2013). Cortical remapping [Online Image]. Retrieved April 12, 2016
from https://upload.wikimedia.org/wikipedia/commons/thumb/d/d8/Cerebrum_lobes.svg/2000px-
Johnson, R. B. (2011). Musical tempo stability in mental practice: A comparison of motor and non-motor imagery
techniques. Research Studies in Music Education, 33(1), 3–30. doi: 10.1177/1321103X11400501
Kleber, B., Birbaumer, N., Veit, R., Trevvorrow, T., & Lotze, M. (2007). Overt and imagined singing of an Italian
aria. NeuroImage, 36, 889–900. doi:10.1016/j.neuroimage.2007.02.053
mourgfile. (2015). Efficiency [Online Image]. Retrieved April 22, 2016
from https://commons.wikimedia.org/wiki/File:Efficiency.png
Norden, J. [Vanderbilt University]. (2014, March 27). The neuroscience of learning and memory [Video file]. Retrieved
from https://youtu.be/wtu-yAm4xik
OpenStax College. (2013). Overview of nervous system [Online Image]. Retrieved April 12, 2016
from https://commons.wikimedia.org/wiki/File:1201_Overview_of_Nervous_System.jpg
Schloneger, M. J. (2011). Graduate student voice use and vocal efficiency in an opera rehearsal week: A case
study. Journal of Voice, 25(6), 265–273. doi: 10.1016/j.jvoice.2010.09.010
Theiler, A. M. & Lippman, L. G. (1995). Effects of mental practice and modeling on guitar and vocal performance. The
Journal of General Psychology, 122(4), 329–343.
[retwedt]. (2013, December 17).
Chemical synapse animation
. [Video File]. Retrieved from
https://youtu.be/mItV4rC57kM.