Is there an optimal approach to playing the string bass that minimizes tension, fatigue, and pain? What strengthening and stretching activities improve productivity while practicing and facilitate muscle recovery between playing sessions, rehearsals, and performances?
This blog will outline cross-training options for bassists, including warm-up exercises, nerve glides, and cool-down stretches. After explaining the structures and functions of the nervous and musculoskeletal systems (nerves, tendons, joints, muscles, and fascia), it will explain how specific exercises and stretches prepare the body for instrumental practice or performance and help it to recover afterwards. The blog concludes with links to short video demonstrations with verbal cues for each exercise or stretch.
Anatomy of the musculoskeletal and nervous systems: Joints, muscles, tendons, fascia, and nerves
The first step in caring for oneself as a musical athlete is to distinguish between the different anatomical structures that work together to support and move our skeleton, including joints, muscles, tendons, fascia, and nerves. Joints are the spaces where ligaments attach bones together. Most skeletal muscles attach to bones via non-elastic tendons, which transmit the force of muscular contractions to the skeleton to move joints, like the deep forearm and hand muscles whose tendons attach to finger joints (Watson, 2009) (see Figure 1). For information about problems with tendons, see "Injuries of an alternate athlete."

Figure 1. Deep forearm muscles (red) and tendons (white) (OpenStax, 1120 Muscles that move the forearm, CC BY 4.0).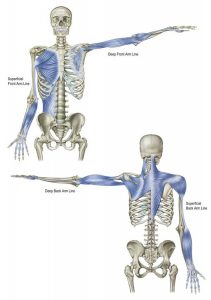 Each of these anatomical tissues differs in their structure and tensile properties. Tendons and ligaments are not elastic and therefore are not designed to stretch, whereas muscles have contractile properties that respond to regular stretching. Stretching counteracts the repeated concentric contractions involved in  playing an instrument that shorten muscles over time with active eccentric contractions, which lengthen muscles, allowing for greater range of motion and flexibility. Beneath the skin and surrounding all skeletal muscles there are layers of fascia (Watson, 2009), a connective tissue that functions like shrink-wrap to connect muscle groups across the body. Healthy fascia moves freely around muscles and joints, and "is unrestricted to provide stability and structural support" (Meltzer et al., 2010). These layers of fascia in the body form fascial lines, which can be superficial, just beneath the skin surface, or deep within the body (Figure 2). The front arm lines connect both thumbs with the chest muscles, while the back arm lines connect both pinky fingers with the muscles of the shoulders and upper back.
Figure 2. The muscle groups of the four fascial arm lines (Basicmedical Key: The Arm Lines).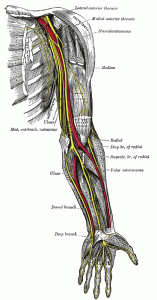 The remaining component in the anatomy of movement is the peripheral nervous system, which consists of nerves that exit from between each vertebrae of the spinal cord and travel along the extremities through small passages within joints to innervate specific tissues throughout the body, including the muscles and skin (Rosset i Llobet et al., 2007). Nerves contain bundles of both sensory and motor neurons. Sensory neurons detect sensations including pressure, shear, temperature, and pain, while motor neurons each activate a unique group of muscle fibers by transmitting an electrical signal from the brain and spinal cord, which make up the central nervous system (Watson, 2009). Of greatest interest to bassists are the three main nerves of the arm: the radial, median, and ulnar nerves. These three nerves originate in the brachial plexus, a bundle of nerves that exits from the cervical spine, passes along the collar bone, and goes through the shoulder. From there, the brachial plexus divides into the three branch nerves (radial, median, and ulnar), each of which passes through different spaces in the elbow and wrist to innervate separate areas of the arm and hand (see the yellow nerve pathways in Figure 3). Due to this circuitous route through the small passages within several joints, nerves are vulnerable to injury when these joints and the muscles and tendons that move them are compromised (Horvath, 2010). In order to prevent playing-related pain and injury, bassists need to care for all the structures in the musculoskeletal system, including fascia, muscles, joints, and tendons, as well as the nerves themselves.
Figure 3. Radial, median, and ulnar nerves (Henry Gray, Nerves of the left upper extremity, public domain, more details on Wikimedia Commons).
What does a musical athlete need to know in order to take efficient care of his or her body?
Similarly to athletes, musicians can approach practicing as training by integrating warm-up exercises, strategic breaks, and cool-down stretches into both practice sessions and performances. A review of studies of athletes shows that dynamic exercises before training and static stretches after training help to prevent muscular injuries by increasing circulation, neuro-conduction, and flexibility (Woods et al., 2007). In contrast to ballistic stretching, which involves repeated fast motions that tug on muscles, the slow, fluid motions of dynamic stretching are beneficial when incorporated into a warm-up routine before an athletic event (Opplert & Babault, 2018). These findings mean that the priority for musicians while training is to warm up before playing with movement exercises and dynamic stretches and to cool down afterwards with static stretching. These pre- and post-playing activities will also help to correct asymmetrical positions with the instrument by strengthening antagonist or opposing muscle groups and adopting specific counter postures that help rebalance the body. See the counterbalancing exercises demonstrated in the blog page "Pumping iron for prevention" for a strengthening training routine that benefits bass players when done every other day with light weights (0-3 lbs), low sets, and many repetitions. For example, one could start with 2 sets of 10 reps each on 3 days per week (Hochnadel, 2015). Musicians can integrate this order of operations into their daily schedule of activities by beginning with dynamic motion and ending with static release. This principle applies both on the small scale for before and after each practice session with the instrument and on the large scale in terms of the entire day, in which muscles need to move in the morning and then stretch before sleeping.
What is the difference between static rest and dynamic recovery during practice breaks?
Breaks from practicing are not necessarily enforced periods of absolute stillness. Practice breaks are an opportunity to integrate postural variety, counterbalancing exercises, and stretches that will offset the repeated positions and movements of playing the bass. Taking a walk or switching from sitting to standing are examples of varying posture during a break. One important form of movements that help provide postural variety are nerve glides, also called nerve flossing. Nerve glides refer to a group of movements that are neither muscular strength builders nor stretches. Instead, nerve glides involve slow, continuous dynamic motions through the comfortable range of motion of a nerve over its entire trajectory (all the joints from the neck to the wrist). These smooth moves are designed to gradually loosen compressed nerves through consistent daily repetitions over a two-week period from 3 to 5 sets of 10 repetitions per day as needed (Hochnadel, 2015). Given that the nervous system resets the plasticity of nerves (their freedom to move) after 20 minutes of staying in the same posture, it is essential to intersperse fixed positions and repeated movements with nerve glides and other postures during breaks (Hochnadel, 2015).
What counterbalancing exercises can assist bass players to correct asymmetrical postures?
Because of their forward-angled posture bass players often rely more on muscles in the front of the body than in the back, resulting in structural inequalities between strong chest muscles and weak back muscles. These asymmetries may be corrected through a process called reciprocal inhibition, which describes the relationship between muscles that oppose each-others' respective actions in a particular movement. Reciprocal inhibition means that in order for an overly-strong agonist muscle to passively release and lengthen while being stretched, its weaker antagonist needs to actively contract in proportion. This concept provides the basis for the postural muscle strengthening exercises in"Pumping iron for prevention". This principle differs from co-contraction (Woldendorp et al., 2013), in which both the agonist and antagonist muscles contract to a certain extent either to isometrically stabilize a joint (i.e. activating the Biceps and Triceps to hold the elbow at a right angle) or to perform the movements of playing (such as when both the flexors and extensors of the fingers activate when lifting and dropping fingers from the string). Therefore, the stretching exercises below address two goals by directly releasing contracted playing muscles and indirectly activating the antagonist postural muscles that are neglected while playing the bass.
Which other types of strengthening and stretching can help bassists to recover from intensive playing?
As musical athletes, bassists need to consider their practice habits, lifestyle choices, and physical activity levels in addition to the quantity and intensity of time they spend playing the bass. Cardiovascular exercise and various forms of body work such as yoga, Pilates, and Tai Chi can improve well-being, as long as the activity chosen does not stress joints in the arms that are already overused from bass playing (Rosset I Llobet, 2007, 97). These practices benefit musicians by improving neuroplasticity in the peripheral nervous system of the arms and upper body. Neuroplasticity refers to nerves' freedom to move through all the joints in their path from the spine to the hands (Rosset I Llobet, 2007, 69). The Alexander Technique and Feldenkreis Method may also be useful to musicians because they assist in forming healthy postural habits and regaining full awareness of the entire body (Horvath, 2010, 88, 97). A key step for bassists to prevent overuse while practicing is "to take rest breaks before the onset of fatigue or pain" (Mandel, 1986). Avoid using the playing muscles to type or text during breaks from playing. Instead, breaks can incorporate active rest (lying down to let the spine release) and the recovery techniques described in this blog.
Author: Renaud Boucher-Browning
Please cite the author if referencing material from this blog.