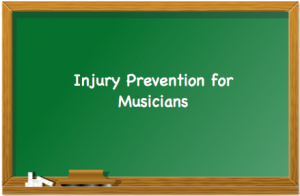 A Crucial Time for Prevention 
Transitioning into college is an exciting yet stressful time. Music students have to meet the demands of their private instructors, and learn how to prepare for what is expected of them in lessons and ensembles. Consequently, students transitioning into university level music programs are at a greater risk of experiencing playing-related pain than before (Barton & Feinberg, 2008). Professionals and students in schools of dance or music make up the majority of those referred to doctors for performance-related health problems (Lederman, 2003).
There needs to be a greater focus on preventing playing-related injuries in the first place. Contributing factors have been well addressed in scientific literature, but not enough attention has been paid to what can be done to prevent pain and injury amongst the at-risk population of musicians. Due to the nature and competitiveness of the industry, it is extremely difficult for musicians to be able to take an extended period of time away from their instruments in the event of a performance-related injury. A more significant emphasis on injury prevention early on in a musician's career will help negate this potential threat.
Role of Teachers
Private teachers and band teachers can play an important role in injury prevention and awareness prior to students entering music school. Flute and band teachers are advised to emphasize ergonomic playing postures and adopt simple injury prevention strategies (Lonsdale, Laakso, & Tomlinson, 2014). Music educators have a big influence on modifiable risk factors including a proper physical warm-up, efficient technique, and playing with a relaxed posture (Guptill & Zaza, 2010).
Educational Modules
In a study by Stegink, Dittrick, Narvaez, Boyette, & Staines (2006), two different educational modules were proven to be effective for student musicians. One module covered all information in one session, while the other covered information over two sessions. Participants in both groups were tested on their knowledge before and after the programs, and both groups showed an increase of test scores on injury prevention and wellness. The educational program covered the following topics: "Performance endurance for musicians", "Cardiovascular fitness and general conditioning", "Basic concepts in core stabilization", and "Relaxation techniques". More research needs to be done on how to best design specific educational models for student musicians.
Raising awareness of modifiable risk factors and injury prevention techniques is an important step in reducing the pervasiveness of performance-related pain and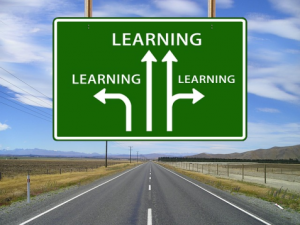 injury. It is essential for musicians to learn and be able to incorporate these techniques into their everyday lives. One solution would be to require a class on injury prevention for first year music school students. Implementing an educational course when musicians are at a greater risk for injury would be beneficial. Since musicians spend so much time practicing alone, it may be useful to enact a system of accountability, such as a practice log or journal. Barton and Feinberg (2008) emphasize the importance of accountability since using health and prevention strategies involves behavioral change.
What Should be Taught and Who is Responsible?
Blackie, Stone, and Tiernan (1999) emphasize the need for injury education for musicians. They advocate that injury prevention should include understanding ergonomic playing, managing the difficulty of repertoire, integrating warm-up routines into practice schedules, sustaining physical fitness, and raising awareness of high-risk behaviors associated with injury. In a survey concerning injury prevention, Blackie et al. (1999) found that the majority of participants received little injury education, and most received what knowledge they did have from private instructors. The most beneficial timing of injury prevention education needs to be determined. Ideally, it should be before problematic habits arise, but that will vary depending on the individual. Additionally, it may be beneficial for musicians and health professionals to join forces in teaching injury prevention. The National Association of Schools of Music and the Performing Arts Medicine Association are beginning to do this. Refer to the "Suggested Further Reading" list for more information.
A required injury prevention course would ensure easy access to information that may positively influence the way students practice, their posture, their general and musical health, and their stress management among other things. On the other hand, this may be a costly option for schools, and thus hinder music schools from pursuing it in the first place. Furthermore, it may be difficult to implement appropriate strategies to hold students accountable for the practice of injury prevention techniques. In whatever way it is implemented, prevention education can be instrumental in lessening the prevalence of injury amongst musicians.
What are some other options on how to teach injury prevention? Who do you think is responsible for disseminating this information? Comment below on if and how you think injury prevention should be approached in music schools.
Related Posts:

Musicians and osteoarthritis
Guidelines for teachers: Specific injury prevention methods

Suggested Further Reading
 Dawson, W. J., & MENC, the National Association for Music Education (U.S.). (2008). Fit as a fiddle: The musician's guide to playing healthy. Lanham: Rowman & Littlefield Education.
The following website and document offer reliable information on neuromusculoskeletal and vocal health for students, faculty, and staff of music schools:
References
Barton, R., & Feinberg, J. R. (January 01, 2008). Effectiveness of an educational program in health promotion and injury prevention for freshman music majors. Medical Problems of Performing Artists, 23, 47-53. http://search.proquest.com/docview/196339617?accountid=12339
Blackie, H., Stone, R., & Tiernan, A. (January 01, 1999). An investigation of injury prevention among university piano students – aspiring musicians may not be receiving injury prevention education and/or not applying the techniques to practice. Medical Problems of Performing Artists, 14, 3, 141. http://www.sciandmed.com/mppa/journalviewer.aspx?issue=1095&article=1052&action=1
Guptill, C., & Zaza, C. (January 01, 2010). Injury prevention: What music teachers can do. Music Educators Journal, 96, 4, 28-34. http://dx.doi.org/10.1177/0027432110370736
Lederman, R. J. (January 01, 2003). Neuromuscular and musculoskeletal problems in instrumental musicians. Muscle & Nerve, 27, 5, 549-61. http://dx.doi.org/10.1002/mus.10380
Lonsdale, K., Laakso, E. L., & Tomlinson, V. (January 01, 2014). Contributing factors, prevention, and management of playing-related musculoskeletal disorders among flute players internationally. Medical Problems of Performing Artists, 29, 3, 155-62. http://www.sciandmed.com/mppa/journalviewer.aspx?issue=1205&article=2059&action=1
Stegink, J. C. W., Dittrick, M. W., Narvaez, A., Boyette, J., & Staines, K. G. (October 01, 2006). The mechanics of music: A comparison of two education schedules to teach injury prevention and wellness awareness for student musicians. Journal of Hand Therapy, 19, 4, 450-451.http://dx.doi.org/10.1197/j.jht.2006.07.019
 Media: 

All pictures received from pixabay through Creative Commons.