Assuming musicians are already aware of the importance of warming up and taking regular breaks during their practice time (See: Guidelines for Teachers: Specific Injury Prevention Methods), let's take a look at alternative ways of coping with osteoarthritis. Research and other publications suggest treatments, exercise and stretching plans, diets and food supplements, all to help keeping healthy cartilage and reduce inflammation in affected joints. Here is a quick summary of what research on these topics has brought up:
1. Exercises:
Although some studies have shown that regular exercise may help maintain power and functions in the affected joints (Stamm et al., 2002), other reports stress the importance of tailoring such plan on the diagnosed condition (Lockard, 2000). Research demonstrates that methodically organized exercise plans can help maintaining hand joints functions in OA affected subjects (Beasley, 2012). Many exercise plans can be found on the web, all aiming at reducing joints stiffness, inflammation and pain (Valdes, & von der Heyde, 2012).
Most of the exercises specifically prepared for musicians consist of gentle flexion, extension and rotation of the fingers that must be executed focusing on relaxation. When willing to try exercises available online, one must remember to use them with care and to seek professional medical advice before doing so:
2. Diet:
We are what we eat. The way our system metabolizes the food we ingest, the type of nutrients we provide it with and proper hydration are all elements that play an important role in our body's ultimate efficiency. Through the years, science showed that some ingredients, easy to integrate in our daily diet, have interesting effects on osteoarthritis: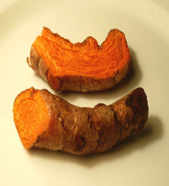 Turmeric: A research showed that taking 1200mg of a turmeric supplement a day over a two weeks period reduced the symptoms of osteoarthritis in tested subjects (Sony et al., 2014). It also showed that, in the long term, its anti-inflammatory and free radical scavenging effects could slow down the disease's progression.
Water

Water: I was surprised not to find any relevant research done on proper hydration effects in joints' health. Cartilage being made up of 85% of water, there are good chances that water intake is a cartilage's health factor. Although controversial, Dr. Batmanghelidj (2004) statement on the impact of chronic dehydration may have on many health problems such as asthma, allergies and arthritis brings up interesting questions.
3.  Alternative treatments:
Additional studies have shown equal or even better results in improving life condition of the affected subjects with alternative types of treatments. Before trying any of them, always make sure to consult a doctor.
Acupuncture: Studies (Witt et al., 2006) showed that acupuncture had a positive impact on patients' condition and could be considered a valid addition to regular treatments.
Manual therapy: According to Hoeksma et al. (2003), a manual therapy treatment plan (consisting of muscle stretching and traction) showed better results on hip osteoarthritis patients than a conventional exercise plan.
Massage: A study on the effects of massage on osteoarthritis of the knee showed promising results (Perlman et al., 2006). Further research would be needed to confirm its relevance on hand osteoarthritis.
Good news!
Learning that musicians don't seem to be especially at risk of developing osteoarthritis is significant. But learning how to help to prevent it (and many other problems) through very simple actions is even more precious. Discussing with students about the importance of keeping fit, adding some "spice" to their diet or drinking more water is, in my opinion, one of the responsibilities of any instrumental teacher. Just as reminding them to pay attention to their technique and how their body feels while playing, or to do regular "hand maintenance" exercises, it might very well change their lives in the long term. And if, through the course of time, bad luck still happens, it will be good to know that there are more and more options being studied to help to cope with it.
What about you?
Do you have to deal with OA? Or do you know any musician who is affected by it? How do you (or they) keep your hands singing?
Thank you for sharing your experience with us!
References
Alexander, C. J. (1990). Osteoarthritis: a review of old myths and current concepts. Skeletal Radiology: a Journal of Radiology, Pathology and Orthopedics, 19, 5, 327-333. http://dx.doi.org/10.1007/BF00193085
Batmanghelidj, F., & Page, M. J. (1992). Your body's many cries for water. Global Health Solutions.
Beasley, J. (2012). Osteoarthritis and rheumatoid arthritis: conservative therapeutic management. Journal of Hand Therapy, 25(2), 163-172. http://dx.doi.org/ 10.1016/j.jht.2011.11.001
Clyman, B. (2001). Exercise in the treatment of osteoarthritis. Current rheumatology reports, 3(6), 520-523. http://dx.doi.org/10.1007/s11926-001-0067-5
Hand Exercises for Musicians with Arthritis. (n.d.). Retrieved April 6, 2015, from http://www.arthritisconnect.com/arthritis-articles/436-hand-exercises-for-musicians-with-arthritis – d33L6gpuveYPDuwo.97
Hoeksma, H. L., Dekker, J., Ronday, H. K., Heering, A., Van Der Lubbe, N., Vel, C., … & Van Den Ende, C. H. (2004). Comparison of manual therapy and exercise therapy in osteoarthritis of the hip: a randomized clinical trial. Arthritis Care & Research, 51(5), 722-729. http://dx.doi.org/10.1002/art.20685
Hoppmann, R. A., & Ekman, E. F. (1999). Arthritis in the aging musician. Med Probl Perform Art, 14(2), 80-84. http://dx.doi.org/10.1016/j.berh.2012.05.006
Lockard, M. A. (2000). Exercise for the patient with upper quadrant osteoarthritis. Journal of Hand Therapy, 13(2), 175-183. http://dx.doi.org/10.1016/S0894-1130(00)80040-X
Macfarlane, J. D., & Rietveld, A. B. M. (2009). A rheumatologist let loose in a performing arts clinic: the spectrum of musicians' complaints and their treatment. Med Probl Perform Art, 24(4), 185-187.
O'Donnell, S., Lagace, C., McRae, L., & Bancej, C. (2010). Life with arthritis in Canada: a personal and public health challenge. Chronic Dis Inj Can, 31(3), 17
Perlman, A. I., Sabina, A., Williams, A. L., Njike, V. Y., & Katz, D. L. (2006). Massage therapy for osteoarthritis of the knee: a randomized controlled trial. Archives of Internal Medicine, 166(22), 2533-2538. http://dx.doi.org/10.1001/archinte.166.22.2533
Singh, B. B., Lakshmi-chandra Mishra, Aquilina, N., & Kohlbeck, F. (2001). Usefulness of guggul (commiphora mukul) for osteoarthritis of the knee: An experimental case study. Alternative Therapies in Health and Medicine, 7(2), 120-4. Retrieved from http://search.proquest.com/docview/204819464?accountid=12339
Sony, D., Latheef, L., Kamath, K., Khaled, M., Wilkins, J., Mathai Kochikuzhyil, B., & Shrinath Baliga, M. (2013). Turmeric and its Principle Compound Curcumin are Effective in the Prevention and Treatment of Arthritis. In Polyphenols in Human Health and Disease. (Vol. 1, pp. 785-789). Academic Press.
Spencer, G. (n.d.). Byron Janis: "I have arthritis, but arthritis doesn't have me.". Retrieved April 6, 2015, from http://www.arthritistoday.org/what-you-can-do/arthritis-stories/career/byron-janis.php
Stamm, T. A., Machold, K. P., Smolen, J. S., Fischer, S., Redlich, K., Graninger, W., … & Erlacher, L. (2002). Joint protection and home hand exercises improve hand function in patients with hand osteoarthritis: a randomized controlled trial. Arthritis Care & Research, 47(1), 44-49. http://dx.doi.org/10.1002/art1.10246
Uhlig, T. (2012). Tai Chi and yoga as complementary therapies in rheumatologic conditions. Best Practice & Research Clinical Rheumatology, 26(3), 387-398.
http://dx.doi.org/10.1016/j.berh.2012.05.006
Valdes, K., & von der Heyde, R. (2012). An exercise program for carpometacarpal osteoarthritis based on biomechanical principles. Journal of Hand Therapy, 25(3), 251-263. http://dx.doi.org/10.1016/j.jht.2012.03.008
Warrington, J., Winspur, I., & Steinwede, D. (2002). Upper-extremity Problems in Musicians Related to Age. Medical Problems of Performing Artists, 17(3), 131-134.
Winspur, I., & Parry, C. B. W. (Eds.). (1999). Specific Conditions. In The musician's hand: a clinical guide (pp. 55-56). CRC Press.
Witt, C. M., Jena, S., Brinkhaus, B., Liecker, B., Wegscheider, K., & Willich, S. N. (2006). Acupuncture in patients with osteoarthritis of the knee or hip: a randomized, controlled trial with an additional nonrandomized arm. Arthritis & Rheumatism, 54(11), 3485-3493. http://dx.doi.org/10.1002/art.22154
Wynn Parry, C. B. (2003). Prevention of musicians' hand problems. Hand clinics, 19(2), 317-324. http://dx.doi.org/10.1016/S0749-0712(02)00126-9
Media: