Advancements in neural imaging technology have shed light on one of the most fascinating phenomena: synesthesia. Commonly referred to as a mixing of the senses, synesthesia takes many forms. A smell may arouse a sight, a texture an aroma, or as in its most popular and documented form a sound yielding a sight. Composers may use their vivid, colorful imagination to guide their pen. Musicians may use this deep sensory connection to aid in memorization and expression. What is most interesting is that, structurally, there is nothing different between a synesthetes' brain and your own (assuming rainbows don't spring from your headphones). The grey areas around the definition of synesthesia are wide. Some define synesthesia as being a phenomenon that presents itself from birth, perhaps to disqualify those that have intentionally learned associations. Referring specifically to colored hearing, some specify that the concurrent presents itself to the open eye; that is, on top of the existing atmosphere (Moseley, 2010). Yet further, some scientists hypothesize that all infants exhibit synesthetic behavior (Hubbard, 2007). There are seemingly limitless varieties of sensory crossover that are possible, but for the purposes of this discussion, sound/music as the inducer, and color/images as the concurrent, will be the focus. Becoming familiar with theories of why synesthetic experiences occur strengthens understanding of our brain. Coupled with rich experience with art we can start to draw our own personal sensory connections.
Historical Footing in Arts and Science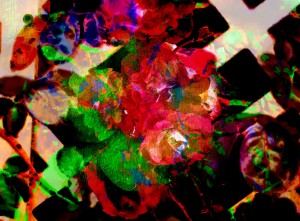 Before diving into modern neuroscience it is useful to know some early cases, theories, and origins of synesthesia. The word comes from the Greek

syn

meaning together, and

aesthesis

meaning perception. Approximately 1890 is when the term began to be used: 1889 appearance in Century Dictionary, 1890 disseminated at Conference of Physiological Psychology, 1892 Jules Millet's thesis on

audition colorée (Lorusso & Porro, 2010)

. However, scientists have been trying to put their finger on this interrelationship of the senses for far longer. Pythagoras aimed to assign a color to each note of the musical scale in the sixth century B.C.

(Lorusso & Porro, 2010)

. In the late 17th century John Locke, in his Essay Concerning Human Understanding (1689), tells of a blind man who through diligent study has begun to understand colors. When prompted to describe scarlet, he replies, "it was like the sound of a trumpet." And in 1664 Newton started to discover what light actually is, and separate it into the seven hues of the prism (curiously corresponding to the seven notes in a scale.) There are many other less scientific writings, mostly by artists (Scrjabin, Kandinsky, Goethe, Baudelaire, Rimbaud) which draw connections between sound, color and scent

(Lorusso & Porro, 2010)

. Think of the phenomenon as a greater unity of artistic inspiration. The best art is fully fleshed in taste and feel, wrought with emotion and shrouded in grace. Do any works of art jump out at you with this visceral feel? Are you familiar with some work by synesthetes and understand the sensory connections they make?

Scientific Hypotheses
There are two leading theories as to what synesthesia actually is, in terms of a physical process: reduced feedback inhibition and cross-activation

(Hubbard, 2007)

. The area of the brain that processes color is adjacent to the area which recognizes graphemes or phonemes (letters and sound bits, respectively). Scientists supporting the cross-activation model theorize that synesthetes' brains have connections between these regions which are retained into adulthood ("reduced pruning" of prenatal pathways). They have even located the white matter highway that shares the signal. For an explanation of white matter versus grey matter, and further attributes of the musical brain visit

Kelly's Blog

. Reduced feedback inhibition refers to feedback onto other sectors of the sensory cortex when a stimulus enters. In a normal non-synesthetic brain, a signal enters, and neurotransmitters in the form of inhibitors prevent the signal from affecting the parts of the brain that are not coded for the stimulus. Perhaps stimuli enter our sensory cortex and light up all sections. We register the ones that are meaningful or essential. As we mature we narrow our perception of the outside world, focusing on necessity, the most immediate, vital mode of the stimulus. There is evidence to support both theories and hybrids of the hypotheses exist as well.

A 2013 study using the most advanced neural imaging technology localizes the white-matter pathway connecting the visual and auditory areas. Those scientists, Zamm, Schlaug, Eagleman, and Loui (2013) support the 'hyperconnectivity-hyperbinding' model of synesthesia. The white matter highway that shares the sensory information is located on the V4 area of the sensory cortex (Zamm et al, 2013). Research on the similarities of synesthesia and the effects of LSD seem to support theories of disinhibited feedback, as that is essentially what the drug does, flooding the brain with neurotransmitters reducing inhibition (Hubbard, 2007). An article by Jamie Ward (2004) documents a case-study that draws attention to the importance of emotion in synesthetic responses. The individual in the study sees color in response to hearing names and other words. The concurrents are more vivid and consistent when the individual feels strongly about the inducer (names of people they know, emotional words.) What model of synesthesia seems most likely to you? To what extent is synesthesia useful or productive? Does accepting a broad definition of synesthesia allow more people creative license?


Synesthesia as Nature
The image above is very basic display of how vision and sound are related. If you had to assign the sound "bouba" to one and "kiki" to the other, which would receive which name? Odds are the orange spiky shape received the more sharp, angular sound of

kiki

.

Bouba

goes to the darker, rounder shape. What is displayed here is not synesthesia, but the innate human inclination toward it. In the bouba/kiki example all that is required is that we connect the dots between the sound and the icon. Synesthesia simply requires the presentation of a personal, consistent sensory experience while experiencing another. Speech is representative of the world we live in, and, in general, seeks to emulate it in a clear way. Music has the power to bring to life emotion through complex organizations of sound. We know that there are twelve notes within an octave, often seven steps in a scale. Some synesthetes experience a specific color for each individual note. Alternatively, the concurrent may be due to tonality or harmony: a wavering fully diminished chord versus a resolute root position major triad (octave in the bass) versus the joy behind tears of a major seventh chord. Sometimes the visuals correspond to a sounds' timbre or its tone (technically this is due to the sounds' overtone characteristics, but that's a whole other discussion). Like John Locke described, perhaps a trumpet is scarlet, a cello deep forest green, French horn as royal blue. The examples are arbitrary. What matters is that they are consistent and meaningful.

E-motion in the Minds' I

Keeping in mind Ward's case-study, Emotionally Mediated Synesthesia, know that the composer feels something about the music they write. Try to identify which emotions the music (or art) rouses in you. Do you believe these are the same emotions the composer is working in? What elements are interacting together to represent this affect? Once we start to ask these fundamental questions about music or painting or poetry or dance (the list goes on) not only do we become familiar with the basic forces that interact across all art, we learn about ourselves. Perhaps then all we must do is color our own emotions: green with envy at something new, blue with lonely solitude as the cloudless sky over the sea, red with rage like a fire that consumes, purple with pride and physical pleasure. Emotions, like colors (like the scales and modes of music) are not absolute or terraced. They exist on a spectrum where an end leads to a new beginning. If you'd like, please share your meaningful experiences with art and emotion.
References
Hubbard, E. (2007). Neurophysiology of synesthesia. Current Psychiatry Reports, 9:193-199.
DOI: http://dx.doi.org/10.1007/s11920-007-0018-6

Ward, J. (2004). Emotionally mediated synaesthesia. Cognitive Neuropsychology, 21:761-772. University College, London UK.
DOI: http://dx.doi.org/10.1080/02643290342000393

Zamm, A., Schlaug, G., Eagleman, D.M. & Loui, P. (2013). Pathways to seeing music: Enhanced structural connectivity in colored-music synesthesia. NeuroImage, 74:359-366
DOI: http://dx.doi.org/10.1016/j.neuroimage.2013.02.024

Lorusso, L. & Porro, A. (2010) Coloured-hearing synaesthesia in nineteenth-century Italy. Imperial College School of Medicine, UK.
DOI: http://dx.doi.org/10.1142/9781848162693_0015

Moseley, I. Crossed wired: synaesthetic responses to music. Imperial College Press, 2010.
DOI: http://dx.doi.org/10.1142/9781848162693_0016

Images were found by use of Creative Commons.