Parts of the brain heavily involved in music
The brain being a very complex organ of the human body has multiple functions. From subconsciously maintaining our bodies to conscious body movement or emotional response. This will focus on the areas that are used time and time again. This section is based off the widely accepted understandings of the human brain in the science communities and can be found across many platforms like in  Marshall & Magoun's Discoveries in the human brain.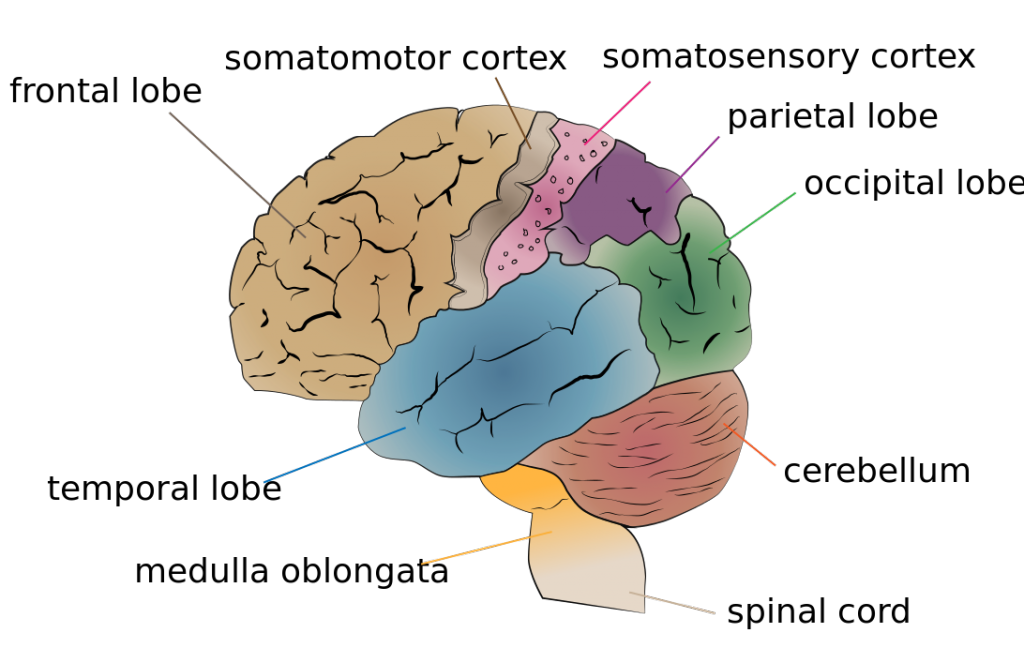 Basic sections of the brain (Jkwchui, Cerebrum lobes, CC BY-SA 3.0)
The brain has two hemispheres, separated by the Corpus Collosum and connected at the thalamus, they each have their tendencies to what type of information they are better at processing. Typically, the right hemisphere is used in Facial recognition and the left is used for logic or math reasoning.
The Frontal lobe is where we keep our "business-like" tendencies. The forward most part of the brain, this area of the brain is used when we want to organize and manage anything.
The Parietal lobe is where our perception is processed. Set right anterior to our Frontal lobe it contains our somatosensory cortex, which plays a huge part in recognizing which sensory nerve ending around the body fires when stimulated.
The Occipital lobe contains our visual cortex which processes everything we see. the most anterior section of our brain behind our Parietal lobe, it is where we process and interpret the visual stimulus that we receive from our environment.
The Temporal lobe has multiple functions but for music the most important aspect of the temporal lobe is the auditory cortex. Here, we hear frequencies and recognize harmonies and melodies.
Any body control movements are originating from the cerebellum and this is where what is often referred to as muscle memory area of the brain: e.g. playing a scale so many times on an instrument that you no longer have to think about the key fingerings;  Remembering without having to consciously think how to play a tune. This allows us to have refined movements that let us perform with musicality and coordination.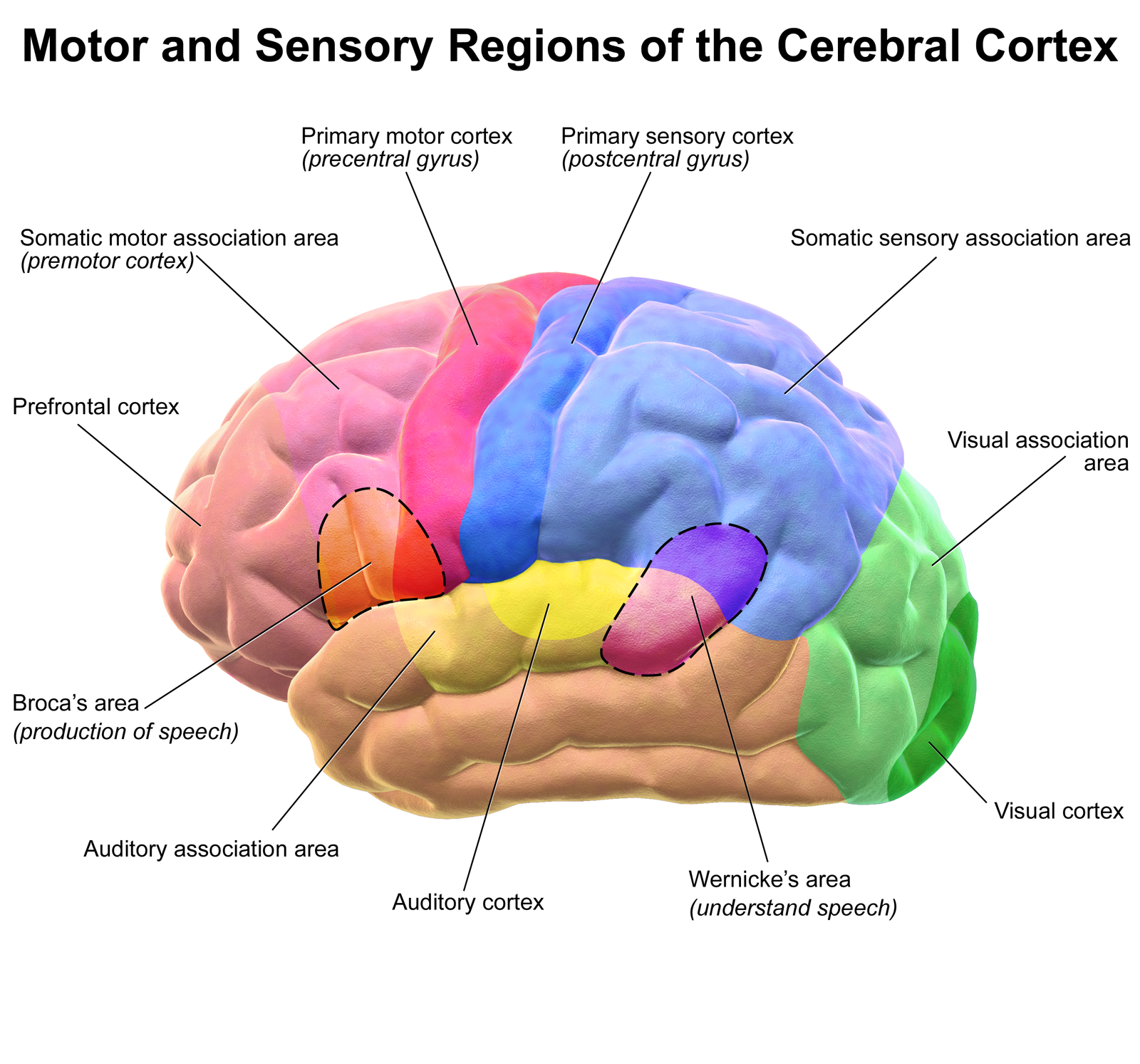 Broca's area
The area of the brain near the frontal lobe that is where we produce our speech. Next to the primary motor cortex it controls how we form our vowels and consonants that we use in every day speech. Without this area, one would not have the ability to form vowels or consonants. They would only be able to make vocal sounds not knowing form different sounds with our mouths
Wernicke's area
Next to the auditory cortex it is where we understand the speech generated by others.  From the sound patterns we learn as we hear, this area processes the sounds that we hear and differentiate between the different sounds that we hear. Without this area, there would be no ability to understand what meaning words have. Everything how ever articulate would sound like gibberish with no understanding of language.
The limbic system is a central area of our brain where we process our reactions to events that have transpired. This system is what enables people to react to the circumstances they witness or experience.  Emotional reactions have strong ties to the memories we strongly remember and affect how one deals with a similar circumstance later down the road.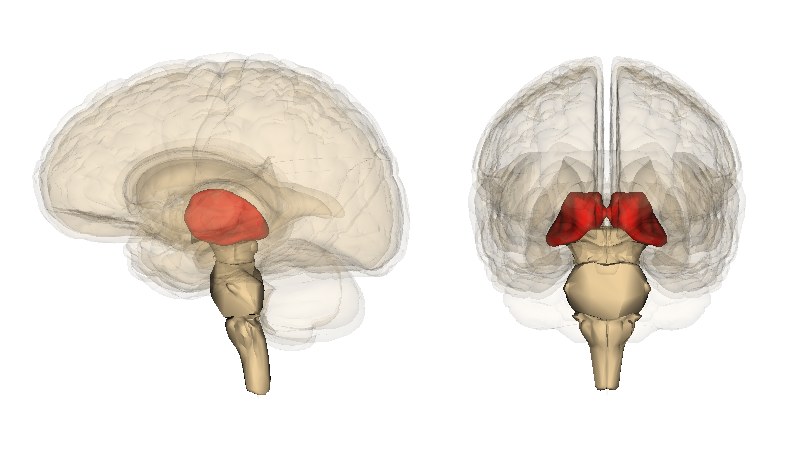 Thalamus
Most importantly the Thalamus is the information router that sends the signals it receives to the right place. Without the Thalamus, we would not be able to differentiate between the different signals sent and they would then not be sent to the areas of the brain that they pertain to. The thalamus knows where to sort the information from the signals it gets.
Henry Vandyke Carter Derivative work: Looie496 Henry Gray
Hippocampus
Located interior of the Temporal lobe, the hippocampus receives information from the Sensory areas of the cortex as well as the association areas (parietal lobe). This process helps channel all the stimuli into one experience that is then processed and stored as a memory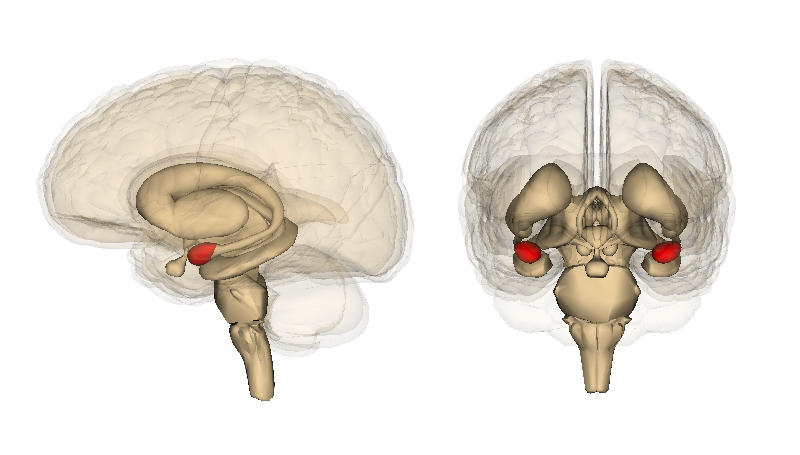 Amygdala
Located beside the Hippocampus and Thalamus, the Amygdala is the area of the brain the connects emotional significance to event and memories. The emotional learning that the Amygdala enables greatly affects the rate of memories that have strong emotional ties.
Tim Saroeun (2017) Creative Commons
Neuroplasticity
Neuroplasticity is the adaptation of the brain to take a task that it learns and become more efficient at it. Going beyond memory, it is how we adapt to our circumstances. Neuroplasticity how we learn from our past experiences and improve our performance in it. The younger the age the more malleable the brain is and as people get older their ability to rewire their brain becomes more and more difficult. Like the saying "you cant teach an old dog new tricks" people that are older that have a very restricted ability of neuroplasticity, teaching them a simple task like how to unlock an iPad or use a new remote for a TV could be difficult for them to grasp.  Bavelier & Neville wrote an article called "Neuroplasticity, Developmental" that is in the Encyclopedia of the human brain. This article goes you how the ability to 'rewire' the brain changes over time, being quite easy at a young age to being next to impossible at an older age.
Below is a short video explaining the basics of neuroplasticity
Matthew Barry Jensen Creative Commons
We all know that practice improves one's ability but how does the memory of those agonizing practice hours improve our ability? When learning an instrument, there are many "methods" that are used to teach someone to play an instrument. Within these methods, the logical way to teach would be to appeal to the student's way of learning so that they learn in their optimal way. Memory is a very temperamental beast. If everyone learned the same way, education would not be a priority in the world because everyone would learn at the same pace and remember the same information taught to them. When learning we have to deal with how we learn best, whether that's from reading a book, hearing someone tell you the information or physically working with whatever you need to learn. Anything that we are taught or have learned ourselves is remembered best when we have learned it from a method that suits our learning style.
The ability of a musician generally changes as they work on their instrument and the musicality of their performance. The memories of practicing helps musicians remember what they did during previous playing sessions and will allow them to grow further from what they were then to what they are now.  To remember something, the neurons that fired when creating that memory must fire in the same way as close as the brain can manage to recall that memory. Of course, not all neurons will fire in the exact same way, if that were the case then people would only have very simple but incredibly vivid memories. The accuracy at which the neurons fire influence how vivid the memory is.
Being a performer requires a vast amount of the brain to be active. The primary motor cortex, primary sensory cortex, somatic sensory association area, the visual cortex, the visual association area, auditory cortex, auditory association area, and if it involves lyrics within the music, the Wernicke's area and the Broca's area. These areas are contained within left hemisphere and are used relentlessly when in a performance. Whether that be following a conductor processing the stimulus in the visual cortex and understanding what the conductor is doing with the visual association area or singing an Italian opera using the Wernicke's area to know what the words are being sung and then responding with your own part with the use of the Broca's area to move your tongue and lips to form the words of the music.
These areas of the brain are used time and time again when performing music and as we progress as musicians and have more and more experiences strengthening connections between synapses as well as creating new ones because of the neuroplasticital nature of the brain. Still to this day very little is known about the brain and its neuroplasticity but it is known that the brain is able to reorganize itself through the consistency of tasks that is being required of it to function more efficiently in those tasks. (Bavelier and Neville in Encyclopedia of the human brain, 2002, pg. 561-578) the ability of the brain the reorganize itself deteriorates over time making it harder to learn to do new things, like how its next to impossible to teach your grandparents how to work a new TV.
Memorizing something for the sake of memorizing may not be the best way . Autobiographical memories have been found to be more vivid when being connected to emotional events. Most people can relate to this just by trying to remember an emotional event in their past and then try to remember what they did a month ago Tuesday for example… There is some controversy to people saying the best way to memorize something is with repetition but that may only work for some people. Some people memorize things very quickly with consistent exposure but some need different types of exposure to the remember information. So, "the best way to memorize information is with repetition" should be taken with a grain of salt. Try to find different angles of the information you are trying to memorize and cycle through them and see if it works better. Some people learn best by reading, some by hearing and some by doing. There is not just one way to learn and the more exposure there is the more chances there are to translate the information into a memory.
Memory works differently for different people. The best examples are people with photographic memory or eidetic memory (Casey. Remembering, Second Edition:Phenominological Study). These memory types store much more information than a typical person's memory of glimpses at ones past in hazy images. Photographic memory can recall stop motion events or memorize an image or text with incredible accuracy and an eidetic memory contains a movie like scene of a memory that can recall large amounts of fine details within the memory. Eidetic memory often is associated to a trigger that evokes the memory based on something that really stands out to you or is something that you just remember unconsciously. One person I personally know that has an eidetic memory remembers clothing that was worn that day and from that they can trace along the memory with that in their mind. Why they remember clothing in particular is unknown; it could be the combination of articles of clothing that are distinct that allows them to remember or they could just be a judgemental way that they connect their emotional reactions to the clothing… In short eidetic memory has cognitive cues that anchors the "memory scene".
So, what happens when you can't remember? People with neurological diseases that inhibit their ability to recall memories or access parts of their brain regress to a state of time where they did not have those neurological connections. Alzheimers disease is degenerative disease which inables the access to previous memories which can progress as far as forgetting ones own identity. Some scientists theorize that it is a plaque build up within the synapses that effectively block the neurons ability to fire to recall information (Cutler and Sramek 1997 pg. 27-40) but memories are not only accessible in one way. Memories can be accessed from any point of the memory as long (as there is something that can provoke that memory). Memories can be triggered from areas of the brain that may not be as severely affected by the disease than other parts. In a research article by Lola Cuddy and colleagues they found that they were able to evoke autobiographical memories in Alzheimers patients. In the experiment they played music that was non-familiar as well as familiar music and found that the familiar music could access memories of their past that they otherwise could not remember. It is somewhat unclear how the Alzheimers disease progresses but when comparing young adults, older adults without Alzheimers and older adults with Alzheimers. They found a positive effect on how music was able to evoked memories from a person's past to the point where participants could recall the memory enough to describe it. Participants were asked to recall memories without musical stimulus but were limited to what they could directly recall. When they were played music, they were able to recall a notable difference with more accuracy and detail.
Memory is something that differs from person to person. It can be very easy for some or very hard for another. Head injuries can affect one's ability to remember or even genetic disorder or diseases. Although, one thing remains the same, people will always learn best when it is tailored to their own interests and when they are exposed to it in a way that they are more easily engaged. If you or whoever needs to learn information finds reading or listening more engaging, find ways to be exposed to the information you need to learn in that form. For many musicians, it is best to learn by playing a song but some like myself, learn fastest when I hear the song from a few different sources so I have an idea of what I am going towards before I start. Find processes that help you remember in better detail and memorizing will become a simple task rather than a nuisance.
How do we remember things?
Memories are not stored in just one place of the brain. Memories are scattered all throughout the entirety brain which allow us to remember what we felt, saw, heard and potentially the order at which events occurred. Different steps are used when translating an occurrence into a memory. Encoding, consolidation, storage, and retrieval are 4 steps that are used in memory retention although some people have different names for the steps or blend consolidation and storage together (Lucas from Encyclopedia of the Human Brain 2002 pg 817-833).  A very easy educational read that I found insightful of the overview of memory is by Mastin's webpage on Human Memory, which explains in sufficient detail the process that memory needs in order to function properly as well as has insights into different cognitive disorders that may impede the brains ability.
Types Encoding
The first step is where the stimulus is processed by the brain to recognize what type of stimuli the body experienced; Whether it was acoustical, visual, or physical stimulus.
Acoustic Encoding
Encoding words, sounds and another auditory stimuli into storage to be later retrieved. Any melody a person can recall has been acoustically encoded.
Visual Encoding
Encoding images and visual sensory information. Stored within the iconic memory before being translated into long-term storage memory. Emotion strongly affects visual memory which relies on the amygdala to process the emotional reactions.
Tactile Encoding
Encoding the physical feeling of an object or the movements. The Somatosensory cortex is the part of the brain that reacts to what is sensed and is where the sense memory physical sense memory is stored from different contact. Within the parietal lobe we contain the sensory association area to the somatosensory cortext allows us to piece together the different stimuli into a greater picture like the dimensions of an object.
Semantic Encoding
Sensory input that has a meaning or can be recognized in a particular context. A collection of all senses having an effect on one another for a more "3D" memory rather than restricted to either being heard, seen or felt.
Conscious encoding tactics
Elaboration
Connecting something someone is learning now and associating it to something you have already learned in the past that has a relationship to it. The "elaboration" connects itself to the already known memories giving the new memory an anchor to draw from. Like after learning a melody and then learning a harmony line to it. The harmony line is usually easier to learn than the original melody because it follows the same structure as the melody and complements it.
Mnemonics
This is the method of using acronyms or rhymes to help remember information. Like most musicians learning  "Every Good Boy Deserves Fudge" or something along those lines to remember the lines in the treble clef. This method passes information through the brain numerous times strengthening associations to the information. Queue words that contain the information create more circumstances for that information to be remembered.
The Memory palace (also known as Method of loci)
Spatial relationships of an imaginary house or 'palace'. Assigning objects or facts to different rooms or different locations within the rooms in order to be able to 'walk through' mentally to recall what information is attached to them. Musicians can use this type of method by creating a story to a piece that encompasses the sections of music that come throughout the music.
Consolidation
This process is to stabilize memory traces after we initially encode the stimulus. If someone is trying to memorizing a song and they remember bits and parts of it but not the whole thing, they are going through consolidation. Since they are not remembering the entire song they can continuously recall the parts of the song they do remember and they will become quicker at drawing those parts out and when they work on the song more they only need to fill in the gaps. Which helps to explain why it is easier to memorize a familiar song rather than a totally new song.
Storage
The storage of memories are believed to be stored in the locations that they are created (Lucas from the Encyclopedia of the Human Brain 2002 pg 817-833).  Since memories are patterns of neuron activities there are vast amounts of information that can be stored. Sequences may be similar but even the same experience a second time will be interpreted differently. It is next to impossible to recreate every single sensation experience in the initial one. When remembering neurons fire from different parts of the cortex. This requires very specific neurons to go trigger. If a sequence is not tied with a past experience, no memory is recalled.
Retrieval
We remember events by firing the same sequence of neurons in the brain as how it happened originally. Of course, not every neuron involved in the original experience will be firing while recalling a memory. If it were the case, we would not be able to differentiate between a memory and real life because even while recalling a memory there is still neurological activity that responds to where and what a person senses in the physical place that they are.
The two main methods of accessing memories are recognition and recall.
Recognition is finding familiarity to something that someone is exposed to but they may not have concrete memories stored with it. When they find a face familiar, they recognize features but may not remember where or when you saw them. So, if someone is exposed to something familiar the brain searches for the connection to why it is farmiliar.
Recall is when there are tied associations with whatever a person is trying to remember. If they are trying to recall what they did ate for dinner two days ago, they would go through the process of where they ate the meal, if they cooked it themselves or if someone cooked it for them.  They have a sequence of cues that they go through that can draw the memory of the food. There are three main types of recall: Free recall, Cued recall, and Serial recall.
Example of Free recall:
Being given a collection of items and having to recall them in any order that they are remembered: Typically, the beginning items and the later items are remembered but the middle items are usually hazier.
Example of Cued recall:
When given another collection of items to remember and being given a queue or guide to help recall the items without being told the item to be recalled. Similar to the idea of the song '12 days of Christmas' where each number has a specific object.
Example of Serial recall:
Being able to recall items or event in the order that they occurred. Recalling past events past in the order that they happened. Recalling different parts of grade school years and being able to say which events happened in the order that they occurred. This could cover a large inconsistent period of time depending on how well a person can remember past events.
Memory works differently for different people and is why, even today, it is difficult for there to be concrete concepts on memory and defining what the best way to use the brain is. Memory experiments differ depending on the people they work with. From the experiments looked at in this blog, the memories were never questioned on the process they go through to remember things but just on the information itself. An interesting experiment to look into different processes to memorize and their effectiveness on control groups.
References
Belfi, A. M., Karlan, B., & Tranel, D. (2016). Music evokes vivid autobiographicalmemories. Memory, 24, 7, 979-989.
Bianco, R., Novembre, G., Keller, P. E., Kim, S.-G., Scharf, F., Friederici, A. D., Villringer, A., … Sammler, D. (2016). Neural networks for harmonic structure in music perception and action. Neuroimage, 142, 80, 454-464.
Casey, E. S. (2009). Remembering, Second Edition: A Phenomenological Study. Bloomington, IN: Indiana University Press.
Cuddy, L. L., Sikka, R., Silveira, K., Bai, S., Vanstone, A., & Walla, P. (2017). Music-evoked autobiographical memories (MEAMs) in Alzheimer disease: Evidence for a positivity effect. Cogent Psychology, 4, 1.)
Cutler, N. R., & Sramek, J. J. (1997). Understanding Alzheimers Disease. Jackson: University Press of Mississippi.
Janata, P., Tomic, S. T., & Rakowski, S. K. (2007). Characterisation of music-evoked autobiographical memories. Memory, 15, 8, 845-860.
Marshall, L. H., & Magoun, H. W. (1998). Discoveries in the human brain: Neuroscience prehistory, brain structure, and function. Totowa, N.J: Humana Press.
John A. Lucas In Ramachandran, V. S. (2002). Encyclopedia of the human brain. San Diego, Calif: Academic Press.
Schubert, E. (2016). Does recall of a past music event invoke a reminiscence bump in young adults?. Memory, 24, 7, 1007-1014.