"I am larger, better than I thought, I did not know I held so much goodness" -Walt Whitman, "Song of the Open Road"

 

(

Hanson, & Mendius, 2009)
---
How do we learn to love our own playing?
Well… before we can learn to love our playing, we must love and be at peace with ourselves.
Have you….
Ever felt unfocused, unsettled, or scatterbrained?

Felt lost in your practice session?                 

Felt discouraged about your progress, or negative about a recent performance?

Obsessed over comparison of yourself to others? "She's more talented than me…"

Been overwhelmed by stress?
If you have these thoughts, you're not alone.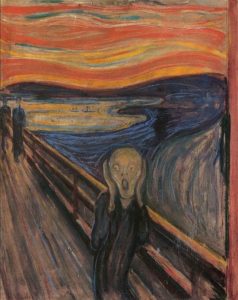 Everyone struggles with the same obstacles when it comes to being a musician. Focused, effective, and efficient practice is one of those lifelong mysteries! Learning how to assess yourself critically, yet maintain positive self talk is also one of the hardest things to do. We can only grow as people when we have a healthy mindset, find more self-satisfaction with our playing, and discover what techniques work for us as unique individuals.
It is crucial to encourage healthy physical as well as psychological habits as we embark on this complex journey as musicians. Being a musician requires a tremendous amount of self reflection, and the skills to assess yourself in an honest way, using critical thinking (analyzing strengths and weaknesses) and not pessimistic thinking. It is a spiralling trap that many of us fall into- to obsess over our weaknesses and doubts- and not be able to see our own beautiful strengths and virtues. It is the little victories that are important in growth!
Recently, these types of questions have been on my mind a LOT. So, I decided to start researching and discussing with others methods that could help me with focus, practice, creativity and positivity in this journey as a musician.
And… I came to the following question:
Do techniques such as meditation, mindfulness, and yoga help in creating a positive mindset in musicians? 
In this blog post, I will share with you a brief overview of a few studies done using these techniques, in the hopes of opening up a discussion or provoking a thought. Of course every individual is different, and a different practice, combination of practices, or no practice at all might be the best for someone in a given situation.
There are many different forms of meditative practices across cultures. Some forms are movement-based (ex. Yoga), while others are contemplative/still (ex. Mindfulness Meditation, Mantra Meditation). These practices have been proven methods to reduce stress, anxiety, and depression in musicians (Van, Hobkirk, Sheppard, Aviles-Andrews, & Earleywine, 2014).
---
STRESS & ITS EFFECTS:
Stress can be a huge barrier when it comes to working on a positive and focused mindset. Stress is a natural, biological reaction to our surroundings. It works to our advantage to a certain extent, but when we become overstressed it can overwhelm and inhibit us. Musicians are found to be more prone to stress and rumination than non-musicians (Roy, Radzevick, & Getz, 2016).
The video "How stress affects your brain- Madhumita Murgia" synthesizes a lot of the information below!
However, if you are interested in knowing more details on stress, see below:
---
~ THE BENEFITS OF A STILL MIND ~
The present moment is all we ever have. When we live in the past or anticipate the future, this may create emotions such as regret or worry. As a result, living outside the present can be a great source of anxiety

(Noonan, 2014). 
There are countless studies that prove the positive effects of meditation and mindfulness. The studies in particular which I will mention here research how separately or in combination: yoga, meditation, and mindfulness can alleviate or decrease factors such as stress, anxiety, music performance anxiety, and confusion… while improving things like flow, mindful awareness, and focus during practice or performance. Obtaining a more mindful disposition when approaching our instrument to practice or perform, whatever it may be, will bring more acceptance, comfort, and confidence. 
There are MANY different types of meditation & therapeutic disciplines which all differ from each other but have overlapping aspects. In this blog I will give a brief overview of mindfulness, meditation and yoga. However, it is important to note there are many variations and forms of these practices (ex. Mindfulness Meditation, Mindfulness Based Stress Reduction, Zen, Mantra Meditation, Transcendental Meditation, Yoga, etc.)
Below are brief explanations of Mindfulness, Meditation, and Yoga. 
Mindfulness has been defined as "paying attention in a particular way: on purpose, in the present moment, and nonjudgmentally". In yoga, mindfulness is often referred to as awareness. Awareness of the present moment requires tuning out thoughts about the past and future. However, mindfulness does not exclude remembering and planning from the human experience. It aims to free attention from remembering and planning in order to focus on the present moment (Butzer, Ahmed, & Khalsa, 2016). 
Meditation in general is not straightforward- it is difficult to classify. 
Meditation is "living in the present moment" (Austin, 2015). 
Meditation is "a family of techniques which have in common a conscious attempt to focus attention in a non-analytical way, and an attempt to not dwell on discursive, ruminating thought" (Austin, 2015). It aims for freedom from thought pollution. When we are able to relieve ourselves from the incessant chatter, what remains are those few mental processes essential to the present moment. 
Sitting quietly for 20 minutes once or twice a day helps most people relax. This helps you get back in touch with the connections between your body and brain. 
Meditation usually involves using a simple concentration devise- focusing on breathing, or repeating some simple word which is in keeping with your belief system. 
Contrary to cognitive-behavioural treatment, a common practice of psychotherapy, the goal of meditation is not to 'challenge' or 'change' dysfunctional thoughts and undesired feelings (ex. 'I am going to fail on stage'), but rather to observe their rise and fall with an open attitude. The literature describes this approach sometimes as 'acceptance'. Acceptance in meditation practice does not mean giving up or resigning. By fully being aware and accepting what each present moment offers without reacting habitually, one may learn to respond to situations more reflectively (Lin, P., Chang, J., Zemon, V., & Midlarsky, E., 2008).
Meditation then becomes several other things than a way to relax, physically and mentally. It becomes a way of not thinking, clearly, and then of carrying this clear awareness into everyday living. If meditation has already clarified the brain and made it more receptive, personal growth is then more likely to occur (Austin, 2015). 
For more information on meditation, see the blog "OMMMm. Meditation? Why…How?".
Yoga's aim is to integrate the body, mind and spirit. This allows a person to be in harmony with themselves and their environment. 
Exercise, breathing, and meditation form the three main yoga structures. Yoga postures and breathing exercises are said to produce great changes in the body as well as influence emotions (Panesar, & Valachova 2011).
Below is some information on the effects of mindfulness, meditation and yoga. 
---
It is important to note the complexity of the term 'mindfulness'. As MMT has grown in popularity, a lot of variation has arisen in the way that mindfulness is conceptualized and in the trainings and interventions that have been included under this umbrella term (Van, Hobkirk, Sheppard, Aviles-Andrews, & Earleywine, 2014). It is important to differentiate the practices of mindfulness, meditation, yoga and the many variations and forms of these practices. 
"Traditional teachings in the Theravada Buddhist tradition clearly differentiate the practices of compassion (karuna), loving kindness (metta), and other positive mind states associated with the Brahmavihara from the practice of mindfulness." (Van, Hobkirk, Sheppard, Aviles-Andrews, & Earleywine, 2014).
---
So… after reading all of this information about yoga, meditation, and mindfulness, what can we learn from it? And, how can it be applied to our lives?

 
"Do all that you can, with all that you have, in the time that you have, in the place where you are."—Nkosi Johnson (Hanson, & Mendius, 2009)
"Meditation cannot be the same for every man. Though the same in principle, namely, the steadying of the mind, the method must vary with the temperament of the practitioner". (Besant, 2009).
I think it is especially important to recognize the complexity and individuality of these practices- absolutely everyone is different and the effects vary for each individual.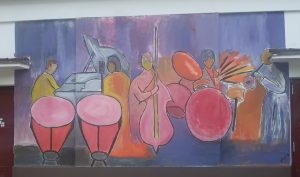 It is also worth noting that each individual musician has a different subjective perception of anxiety. One concept I find extremely interesting is the inseparability of mind and body – feelings represent one's interpretations of bodily states, and emotional signals are derived from bodily states (Kenny, 2011). Techniques such as Mindfulness-Based Stress Reduction address the mind and body as a whole.
Band grafitti. Wikimedia Commons
Meditation, by means of cultivating nonjudmental awareness, has been a proven way that musicians accept their anxiety and performance on stage as it is- bringing more self-satisfying performances (Lin, P., Chang, J., Zemon, V., & Midlarsky, E., 2008). I believe that achieving more self-satisfying performances, rehearsals, or practice sessions can be a huge step towards more self love for our playing, and a more positive self image. By bringing awareness to mindful practices, and introducing these methods, maybe we can help reduce stress and anxiety in musicians as well as create a healthier learning and working environment. If you are interested in reading more about meditation and its effects on musicians practice and performance, see the blog "The Art of Zen Music Playing". 
"The purpose of meditation is to learn to experience life fully as it unfolds – moment by moment. Through the practice of meditation, one can develop greater calmness, charity and insight in facing life's experiences and in turning them into occasions for learning, and thus deepening one's wisdom (Kabat-Zinn, & Santorelli, 1999)."
Perhaps Mindfulness-Based Stress Reduction (MBSR), or a variation of this could be taught in schools in order to help students with their mental health and/or performance anxiety. A MBSR course usually includes basic relaxation and breathing techniques, meditation and simple yoga, along with homework such as maintaining a gratitude journal and a positive events log (Noonan, 2014).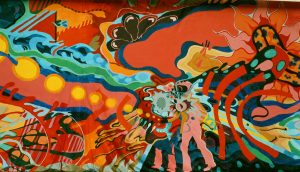 Genesis. Wikimedia Commons 
If you wish to experiment yourself…
In daily life, you can explore basic meditation or mindfulness techniques as soon as you wake up, before you go to sleep, before your practice session, or even before a performance. An attitude of mindfulness can be interwoven with our practicing, performing, or attitude towards music.
Mindfulness and meditation are just a few options of ways to take care of our minds. It may not be right for everyone… so if you are interested in this topic or this way of thinking, you could do your own research and experiment in finding what works for you!
It is equally as important to care for our bodies as well as our minds, so that we may continue pursuing our job of of creating music in a creative and beautiful way.
"Science further verifies that when we cultivate compassion and mindful awareness in our lives – when we let go of judgements and attend fully to the present – we are harnessing the social circuits of the brain to enable us to transform even our relationship with our own self" -Buddha's Brain (Hanson, & Mendius, 2009)
---
References

Bibliography:

Austin, J. H. (2015). Zen and the brain: Toward an understand of meditation and consciousness. Cambridge: MIT Press.

Barbeau, A.-K. (2017). Is performing music soothing or stressful? Two perspectives: Music performance anxiety among musicians and the effect of active music-making on seniors' health (doctoral dissertation). McGill University, Montreal, Canada

Besant, A. (2009). An introduction to yoga. Waiheke Island: Floating Press

Butzer, B., Ahmed, K., & Khalsa, S. B. S. (2016). Yoga enhances positive psychological states in young adult musicians. Applied Psychophysiology and Biofeedback : In Association with the Association for Applied Psychophysiology and Biofeedback, 41, 2, 191-202. doi:10.107/s10484-105-9321-x

Hanson, R., & Mendius, R. (2009). Buddha's brain: The practical neuroscience of happiness, love, & wisdom. Oakland, CA: New Harbinger Publications.

Horan, R. (2009). The neuropsychological connection between creativity and meditation. Creativity Research Journal, 21, 2-3. doi:10.1080/10400410902858691

Kenny, D. (2011). Conceptual framework. In The Psychology of Music Performance Anxiety (pp. 15-32). Oxford, UK: Oxford University Press.

Khalsa, S. B. S., Shorter, S. M., Cope, S., Wyshak, G., & Sklar, E. (2009). Yoga ameliorates performance anxiety and mood disturbance in young professional musicians. Applied Psychophysiology and Biofeedback, 34, 4, 279-289. doi:10.1007/s10484-009-9103-4

Lazar, S. W., Kerr, C. E., Wasserman, R. H., Gray, J. R., Greve, D. N., Treadway, M. T., McGarvey, M., … Fischl, B. (2005). Meditation experience is associated with increased cortical thickness. Neuroreport, 16, 17, 1893-1897. doi: 10.1097/01/wnr.0000186598.66243.19

Lehrer, P. M., Woolfolk, R. L., & Sime, W. E. (2007). Principles and practice of stress management. New York: Guilford Press.

Lin, P., Chang, J., Zemon, V., & Midlarsky, E. (2008). Silent illumination: a study on chan (zen) meditation, anxiety, and musical performance quality. Psychology of Music, 36, 2, 139-155. http://pom.sagepub.com

Noonan, S. (2014). Mindfulness-based stress reduction. The Canadian Veterinary Journal = La Revue Vétérinaire Canadienne, 55, 2, 134-5.

Panesar, N., & Valachova, I. ( 2011). Yoga and mental health. Australasian Psychiatry, 19, 6, 538-539. doi:10.3109/10398562.2011.620613

Roy, M. M., Radzevick, J., & Getz, L. (2016). The manifestation of stress and rumination in musicians. Muziki, 13, 1, 100-112. doi:10.1080/18125980.2016.1182385

Van, D. N. T., Hobkirk, A. L., Sheppard, S. C., Aviles-Andrews, R., & Earleywine, M. (2014). How does mindfulness reduce anxiety, depression, and stress? An exploratory examination of change processes in wait-list controlled mindfulness meditation training. Mindfulness, 5, 5, 574-588. https://doi-org.proxy3.library.mcgill.ca/10.1007/s12671-013-0229-3

Watson, A. H. D. (2009). Performance-related stress and its management. In The biology of musical performance and performance-related injury (pp. 332-352). Lanham, Md: Scarecrow Press.

Media credits:

Band grafitti. Wikimedia Commons 

Edvard Munch – The Scream. Wikimedia Commons 

"How Does Meditation Change the Brain? – Instant Egghead #54"

"How stress affects your brain- Madhumita Murgia"

Limbic System, Wikimedia Commons

Suzanne-Valadon – The Violin Case, Wikimedia Commons